If you and your family need a well-deserved break, have you considered visiting Canberra, our nation's capital?
There are so many exciting things to do in Canberra for families and in fact for all ages, it is definitely a destination worth considering.
Canberra is a 3-hour drive from Sydney (286 km) and a 7-hour drive from Melbourne (663 km). There are many flights from all capital cities to Canberra.
We share with you 5 of the best Canberra family accommodation.
If you are driving down from Sydney for your Canberra Staycation you can choose two routes – via the South Coast of NSW or through the Southern Highlands. Both are scenic routes and you could combine both travelling in each direction.
Top Accommodation in Canberra for Families
Hyatt Hotel Canberra (5-star luxury)
Latest Guest Review
"Breakfast was delicious and the seafood dinner buffet was exceptional! Fresh seafood and heaps of varieties! 200% recommend to anyone to stay and eat here! "
Address: 120 Commonwealth Avenue Canberra
The Hyatt Hotel Canberra offers 252 rooms and suites in a beautiful heritage setting. If it is a 5-star luxury Canberra escape you are after the Hyatt Hotel is for you. Interior design has been inspired by the 1920s balanced with modern Art deco touches gives you that Hyatt luxury that you know well.
There is a fitness centre for the adults and an indoor pool for all the family to enjoy.
Dining options are aplenty with a casual dining experience at the Promenade Cafe or Tea Lounge. Sit by the fire in winter or relax on the verandah at the Speakers Corner Bar or retreat to Griffins.
Don't forget you always have 24-hour room service as well if you just want to stay in and enjoy your surroundings.
Close by:
National Library of Australia is 1.78 km away
National Gallery of Australia is 2.37 km away
National Museum of Australia is 3.58 km away
National Portrait Gallery of Australia is 1.93 km away
Parliament House 1.83 km away
Australian War Museum is 4.74 km away
Old Parliament House is 1.66 km away
Telstra Tower 3 km away
Lake Burley Griffin 0.5 km
Crowne Plaza Canberra 4.5 star
The Crowne Plaza in Canberra, one of the best hotels in Canberra, is well located to visit the major tourist attractions of Canberra. It is also one of the best family accommodations in Canberra.
Latest Guest Reviews
"Super friendly staff, the rooms were a good size and comfortable. The breakfast was delicious! There is a downside that the bathrooms are slightly dated, but still clean and well maintained."
Address: 1 Binara Street Canberra
Park or mountain views superior, deluxe rooms as well as the King Presidential Suite all centrally located in the heart of Canberra. Family rooms are available. Rooms come with 42″ flatscreen TVs, tea and coffee making facilities, high-speed broadband internet and private ensuite bathroom facilities.
Need to work out? The hotel offers a fitness centre, outdoor swimming pool and sauna.
Need a bite to eat? Choose from either the Redsalt Restaurant or Binara One for light meals and cocktails.
Close by:
Australian War Museum – 1.4 km away
Old Parliament House – 2.8 km away
Telstra Tower – 2.8 km away
Parliament House – 3 km away
Lake Burley Griffin – 3 km away
One of the great places to stay in Canberra with family rooms available.
Latest Guest Review
"The location was very convenient, with good restaurants & cinemas nearby. Minutes from the National Gallery, which was the principal reason for our visit."
Address: 1 Constitution Avenue Canberra
A good location in Canberra's CBD the A by Adina offers a range of accommodations from studios to 1 and 2 bedroom apartments. Family rooms and interconnecting rooms are available with flat-screen TVs, a microwave, fridge, kettle and work desk.
The hotel offers a fitness centre and free wifi.
Close by:
National Gallery of Australia 1.9 km away
Telstra Tower – 2.5 km away
Australian War Memorial – 1.7 km away
Questacon – 1.9 km away
Old Parliament House – 2.6 km away
Parliament House – 2.9 km away
Quest Canberra City Walk 4.5 star
Latest Guest Review
"Location can't be any better! Right in the city with tons of options for food and shopping! comfortable and clean"
Address: 240 City Walk opposite Canberra's main shopping centre
The Quest Canberra City Walk has 84 serviced apartments with studio rooms with kitchenettes and 1 and 2 bedroom apartments with fully equipped kitchens perfect for that family staycation.
Hotel facilities include free unlimited high-speed internet, fitness centre, family rooms, LCD TV with Foxtel. The 1 and 2 bedroom apartments include laundry facilities.
Close by:
Australian War Memorial 1.5 km away
Telstra Tower 2.6 km away
Old Parliament House 2.9 km away
Parliament House 3.1 km away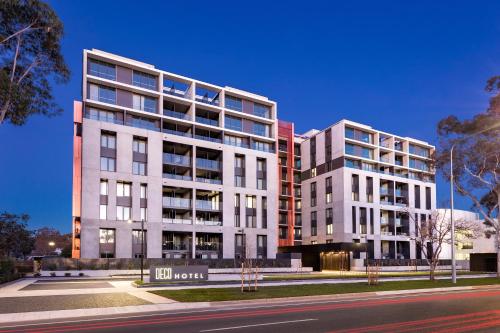 Latest Guest Review
"The location is perfect for Braddon restaurants and the hotel itself is beautifully designed. The staff were very friendly and the room was sparkling clean. No faults at all. Breakfast was perfectly cooked and we wished we could have stayed longer. Happy to recommend it."
Address: 214 Northbourne Avenue Canberra
The Deco Hotel has 210 rooms, made up of hotel rooms, 1 and 2 bedroom apartments. Hop on the Light Rail close by to the hotel and two stops later you are in the heart of Canberra's CBD.
Room facilities include AH Beard beds, plush bathrobes, rain showers, free high-speed wifi, movies on demand, LCD TVs, tea and coffee.
The apartments include a fully equipped kitchen, AH Beard beds, plush robes, rain showers, free high-speed wifi, movies on demand, Foxtel, LCD TV, Nespresso machine and more.
On-site restaurant Two 14 is open for breakfast, lunch and dinner 7 days a week. Room service is available,
Close by:
Australian War Memoral 2.4 km away
Old Parliament House 4.8 km away
Parliament House 5.1 km away
Frequently Asked Questions on Visiting Canberra
When is the best time to visit Canberra?
The best time to visit is in Spring from September to November.
How many days should I allow to visit Canberra?
You should allow a minimum of 2 days.
How far is Canberra Airport from the CBD?
It is 8 km with an average driving time of 15 minutes.
Does Canberra have a good public transport system?
To visit Canberra's iconic attractions we recommend using the Red Explorer Loop Bus.
"The bus goes to the Australian War Memorial, Anzac Parade Memorials, Lake Burley Griffin, Canberra Visitors Centre, National Library, Questacon, National Art Gallery, the High Court of Australia, National Portrait Gallery, Old Parliament House, New Parliament House, a drive through the Embassy precinct and the National Museum of Australia
Bus departs from Canberra Museum and Gallery every Monday, Wednesday, Friday and Saturday at 9:30 am, 11:00 am, 12:30 pm, 2:00 pm and 3:30 pm."
Canberra's buses and light rail system is cost-effective and a great way to get around the city. Click here for more information.
Transport Canberra Buses uses the MyWay Smart Card which you can purchase and top up from recharge agents. Click here for details.
Flights To Canberra
For the latest airfares to Canberra click here
Conclusion:
We hope you enjoyed our Staycation Australia article on Canberra Hotels. Feel free to share with your family and friends. We have shared with you the best Canberra stays for families.
Canberra has a lot to offer for family travel. We would love to hear from you on our Staycation Australia Facebook page if you visit the Nation's capital.
We are also on Instagram and Youtube.
Are you on Pinterest?
We are, join us over at our Staycation Australia Pinterest board.
For more travel inspirations in Australia:
Visit Bruny Island Tasmaia