Do you love visiting wineries? Are you wondering where to stay when you visit the Barossa Valley of South Australia?
The Barossa Valley is one of Australia's premier wine-growing regions. Located just 50 minutes from Adelaide the towns of Tanunda, Angaston and Nuriootpa are historic towns of the region and should be included on your Staycation Barossa Valley itinerary.
Apart from 6 stunning Barossa Valley winery accommodations, we will share with you some of the best Barossa Valley tours available from wine tastings, lunches and even a hot air balloon flight over the vineyards with breakfast.
You will fall in love with the Barossa Valley, just as much as we have over the years of visiting. Now, which Barossa Valley accommodation will you choose for your next Barossa Valley getaway?
How many days should you allow to visit the Barossa Valley?
At least a minimum of 4 days, ideally a week, you could also include a night or two in Adelaide at the beginning and the end of your trip.
We have visited many wine regions throughout the world and in Australia and have stayed in various accommodations in nearby towns and in the wineries themselves.
Our preference these days is to choose accommodation within a winery for the views and the ability to be able to taste wine without the hassle of driving. If there is a restaurant attached, that is definitely a bonus!
Did you know that the Barossa Valley is made up of two regions – the Barossa Valley and Eden Valley? Barossa Valley is well-known for its Shiraz and Eden Valley is well-known for its Riesling.
Accommodation Barossa Valley South Australia
We share with you some of the best accommodation in the Barossa Valley:
Tanunda
Lyndoch
Bethany
Seppeltsfield
Angaston
Stonewall Cottages & Vineyards
Address: 373 Stonewell Road Tanunda
"We thought we had landed in paradise" latest guest review of the Stonewall Cottages
Just 4 km from the town of Tanunda, Stonewell Cottages are located in 103 acres of vineyards and boast waterfront boutique luxury accommodation.
Stonewell Vineyards produce Shiraz, Cabernet Sauvignon, Cabernet Franc, Tempranillo and Grenache on its 75 acres.
The accommodation is made up of two spa suites – Haven 1 and Haven 2 and two cottages – Hideaway and Cupid's.
Facilities:
Lake views
Cottage gardens
Wood fires
Spa baths
Well-equipped kitchens
Local produce so that you can prepare your own breakfasts daily
BBQ, outdoor setting, sun lounges
L'Occitane guest amenities
Free wifi
Netflix
Nespresso coffee machine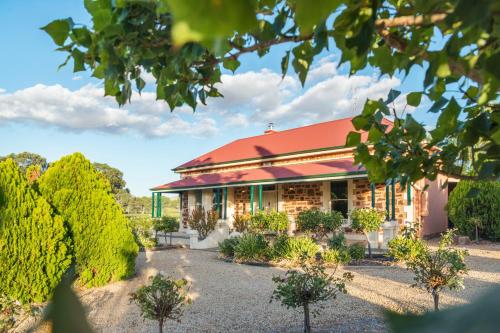 Address: 1246 Barossa Valley Way Lyndoch
Latest Guest Review: Amazing views of the vineyard, warm, clean and comfortable. we enjoyed the treats of cheese and wine on arrival and top quality breakfast. Fireplace and spa were bonus perks!
The Barossa Shiraz Estate has six luxury cottages suitable for 2 – 6 guests.
The Barn – 2 bedroom cottage with balcony
The Loft – 3 bedroom cottage
The Vines – 1 bedroom cottage
The Residence – suitable for a couple
The Willows – 3 bedroom cottage
Jacobs Estate Cottage – 3 bedroom settlers cottage in the grounds of St Hugo Winery
Facilities include:
Walking distance to other wineries and restaurants e.g. Barossa Chateau/Lyndoch Hill, Kies Wines, Chateau Yaldara 1847 wines
Local produce for self-preparation breakfast
Toiletries from Lyndoch Lavender Farm
Complimentary bottle of Barossa wine
Free wifi
Vineyard views
Air-conditioning
Fully-equipped kitchen
Gas BBQ
Outdoor setting
Flat-screen TV
Member of the Unique Boutique Collection of Hotels
Blickinstal Barossa Valley Retreat
Address: 261 Rifle Range Road Bethany
The 4 star Blickinstal Barossa Valley Retreat offers 4 studios that sleep 2 and 2 lodges that sleep 4 located 5 minutes from Tanunda.
Latest guest reviews: Great location on a hillside overlooking the Barossa Valley. Excellent place to watch the sunset. Tranquil setting with trees and space. Table and chairs outside the rooms to relax and enjoy the fresh air. Stayed one night in a standard room and one night in The Lodge, which was more comfortable with an internal table and chairs and more space. But both were fine.
Blickinstal means "view into the valley".
Facilities include:
Free daily breakfasts
Free afternoon teas
Loft-style apartments with a spa bath in the ensuite
Wood fires
Air conditioning
LCD TVs
Broadband internet
Cable TV
Heating
Electric blankets
Cooking facilities
DVD/CD player
The 20-acre property has 10 acres under vines producing Cabernet Sauvignon, Riesling, Shiraz, Rose, Sparkling, Semillon Sauvignon Blanc and a dry red.
Seppeltsfield Vineyard Cottage
Latest Guest Review: Wonderful, highly recommended. Lovely setting, wonderful host, every little detail attended to. It was so hard to leave to do some sightseeing as it's so perfect. Great amenities, very central but secluded. I would not hesitate to return.
Address: 27 Gerald Roberts Road Seppeltsfield
The heritage 1860s German settlers cottage is luxury accommodation suitable for a couple. It is located in the 'Seize the Day' premium Shiraz vineyard next door to Hentley Farm Restaurant and Cellar Door and walking distance to the Seppeltsfield Winery and Fino Restaurant.
Facilities include:
Self-contained cottage
Verandah with views
Rainwater bath
Gourmet provisions and beverages
Breakfast provisions
King size bed
Reverse cycle heating and cooling
Underfloor heating in bathroom
Molton Brown and Vasse Virgin toiletries
Kitchenette
Gas BBQ, outdoor dining table and sun lounge
Also available is The Retreat – a 3 bedroom, 2 bathroom home suitable for up to 6 people.
Facilities include:
Fully-self contained accommodation with a kitchen
Nespresso Machine
55′ QLED LCD Smart TV
Outdoor entertaining
Jetmaster open wood fire
Breakfast supplies
Local produce for a gourmet grazing platter
Complimentary bottle of local wine
Hutton Vale Farm – JHA Stone Cellar
Address: Stone Jar Road Angaston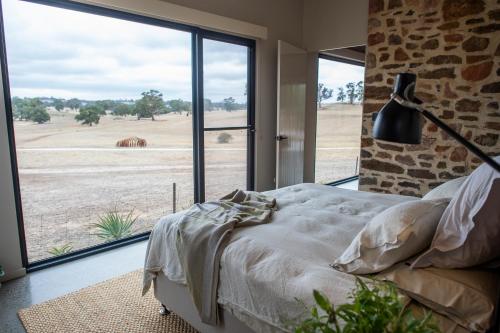 Latest Guest Review; JHA is absolutely stunning. We couldn't fault a single thing. The whole Angas family are very warm and welcoming, going above and beyond to make you feel at home.
The JHA Stone Cellar offers guests:
Luxurious 2 bedroom villa with ensuite bathrooms suitable for 2 couples or a family of four
Views over the old vine Shiraz vineyard
Fully equipped kitchen with dishwasher
Outdoor shower
Breakfast hamper
Flat screen TV
Free wifi
Garden and patio
Hutton Farm Vale Accommodation offers:
4 bedrooms with queen size beds and small ensuite each
Indoor/outdoor kitchen
Open fire
Electric blankets
Air-conditionings
Hutton Vale Vineyard produces Riesling, Shiraz, Cabernet Sauvignon and Grenache.
1837 Barossa Luxury Vineyard Cottages
Address: 119 Yaldara Drive Lyndoch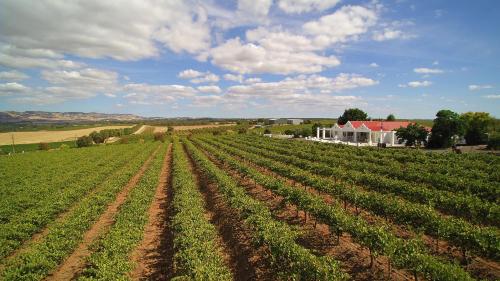 Latest Guest Review: A beautiful cottage in the middle of a vineyard with great furnishings and facilities to make the stay enjoyable.
The luxury vineyard cottages offer:
Fully-equipped kitchen with dishwasher
Fireplace
Flat-screen TV
Free wifi
Air-conditioning
Patio, with access to a garden
Spa bath
Washing machine
Suitable for adults only
The vineyard produces Shiraz, Pinot Gris and Cabernet Sauvignon
Best Time to Visit the Barossa Valley
The four seasons in the Barossa Valley offer the visitor different experiences. The Barossa Valley is a popular region that you can visit at any time of the year. The region experiences cool wet winters and warm dry summers.
Autumn (March – May)
The grapes are harvested from mid-February through to Easter. Average temperatures range from 17C-26C during the day and nights from 7C-12C.
Winter (June – August)
Average daily temperatures range from 17 – 24 degrees with nighttime lows of a minimum of 6 degrees. Buds start to appear on the vines.
Summer (December – February)
Average daily temperatures range from daytime 26C-29C, some days can reach 38 degrees and nights range from 12C-14C. Grape harvest begins mid-February.
Spring (September – November)
Average daily temperatures are around 26 – 29 degrees, some days can reach 36 degrees. Budbursts in early spring and fast-growing vines towards the end of Spring.
Top Things to do in The Barossa Valley
Barossa Valley Hop on Hop off Bus Tour
Relax and enjoy the Barossa Valley Hop on Hop off Bus Tour to visit several wineries in the Barossa Valley. The buses operate between 11 am and 4 pm. You have the freedom to stay as long as you like at a winery or take an extended lunch.
Trail hopping is the best way to tour through the Barossa Valley region.
St Hugo and Riedel Masterclass with 4 course Lunch & Wine
Enjoy the best of gourmet food and wine for 90 minutes at St Hugo Winery. You have a choice of either a four or eight-degustation menu at either lunch or dinner.
Wine lovers can pay a visit to St Hugo to join this wine masterclass daily from 10.30 am and is a must-do activity in the Barossa Valley. Bookings are essential for this exclusive gourmet food and wine tasting experience at St Hugo.
Barossa Valley Hot Air Balloon Experience
Experience one of the most peaceful and tranquil ways to take in the scenery of the beautiful Barossa Valley. Be lifted gently into the air by a giant rainbow-colored balloon at the cool air of daybreak as you admire the scenery unfurling before you.
Visit Yalumba Wines for a 2-hour Barossa Valley winery tour of the historic buildings, unique Yalumba Cooperage and iconic cellar door with a hosted wine tasting and shared seasonal platter.
Ultimate Maggie Beer's Farm Shop Experience
Pheasant Farms Wine Tasting, Durand Distillery Gin Tasting, Tasting of Maggie Beer's products and enjoy a grazing board lunch and tour of the farm.
Watch on as fresh farm produce and gourmet Maggie Beer products are whipped up into delicious and easy to follow recipes that you'll get to taste in- house.
Enjoy a flight of wine at Jacob's Creek Wines before enjoying a picnic of savoury and sweet food in a beautiful setting at Jacob's Creek.
travel Information for South Australia
Adelaide Airport is approximately 1 hour's drive to the Barossa Valley.
You can rent a car from Adelaide Airport on arrival for your visit to the Barossa Valley.
Public Transport
LinkSA operates a daily bus service that connects the Barossa with the Adelaide Metro public transport service via the Gawler Railway Station. Check out the Angaston to Gawler/Evanston Timetable or for more information visit the LinkSA website.
Conclusion
A visit to the Barossa Valley will be a memorable experience. Whether you are a wine lover or not visiting the Barossa Valley will surely have you enjoying the gastronomic delights of the region and the historical country towns and the stunning scenery of the area. We hope you have enjoyed our round-up on Barossa Valley Vineyard Accommodation.
If you enjoyed our article share it with your family and friends. If you visit the cottages in the Barossa Valley we would love to hear your thoughts.
Join our Staycation Australia Facebook Group for more information, the latest articles and travel tips.
We are also on Instagram and Youtube.
Are you on Pinterest? We are, join us over at our Pinterest Page.
Why not save our article to your travel board.
Review Borrodell Vineyard, Sky Bar and Sister's Rock Restaurant Orange NSW