One of the best ways to see Northern NSW is with the flexibility of an NSW road trip. Whether you are travelling as a family, as a couple or with a group of friends a road trip is the way to go. There is something really special about exploring areas that you haven't visited before, finding hidden gems and creating memorable adventures along the way.
Where do you start? How do you plan an NSW road trip itinerary where you want to fit in as much as possible?
We planned this road trip NSW itinerary for a duration of two weeks travelling from Sydney up to the North Coast of NSW to Byron Bay and returning inland so that we could see as much as we could in our two weeks. You could easily extend this itinerary to 3 weeks or even 4 and even shorten it if you only have one week.
We cover some of the best beaches, great places to stay, visiting towns on the coast and inland, breweries, wineries, gin distillery, famous pubs and some of the best restaurants and local produce that rivals anywhere else in Australia.
Would we change anything on our NSW road trip? Yes, some extra time would have been a bonus on the return part of the journey. Most of our time was spent on the coast and not in the New England region of NSW. I put this down to the fact that I lived in the region around Tamworth for around 2 years when I was in my late teens and travelled around. The other reason was that the hotel we wanted to stay in Scone was fully booked so we chose instead to stay in Uralla and Wingham.
Another road trip is heading 1.5 hours from Sydney to visit the Blue Mountains Attractions.
Our NSW Road Trip Itinerary
In this itinerary, we cover visiting:
Sydney to Port Stephens visiting Bennetts Beach (Hawks Nest), Tea Gardens, Salamander Bay, Nelson Bay
Port Macquarie
Beechwood, Nambucca Heads, Bellingen, Raleigh, Urunga, Sawtell, Yamba and Angourie
Lennox Head, Byron Bay, Newrybar,
Tenterfield, Glen Innes, Uralla, Wingham, Gloucester and return back to Sydney.
This post may contain affiliate links. Please see our disclosure for more information.
Best NSW Road Trip Details – NSW Coast Road Trip Sydney Byron Bay
Sydney to Port Stephens
Our first port of call was to visit Hawks Nest and Tea Gardens and in particular Bennetts Beach before heading to Salamander Bay for 2 nights. The journey on average takes around 2 hours and 50 minutes to travel 220 km via the M1 and Pacific Highway/A1.
Bennetts Beach is also known as Hawks Nest Beach and it is 14.3 km long of silvery-white sand running from Seal Rocks to the north to Yacaaba to the south. It is popular with surfers and swimmers. There is parking available at the Tea Gardens Hawks Nest Surf Lifesaving Club. The beach is patrolled from October to April.
Hawks Nest is a popular summer destination where visitors enjoy swimming, surfing, windsurfing, boating, canoeing, fishing, bushwalking and diving.
There is a range of accommodation available in Port Stephens from camping grounds to motels, cottages and much more.
Good to know: If you are considering visiting at Xmas time or the Easter school holidays you will need to book in advance.
Tea Gardens
From Hawks Nest travel back over the Singing Bridge to Tea Gardens – yes it does sing, you can hear it when the south-westerly winds are blowing. If you wander under the bridge you may see bottle-nose dolphins in the Myall River and you may even be greeted by a family of pelicans.
There are some great restaurants to choose from in Tea Gardens. Our visit coincided with the running of the Melbourne Cup and our only choice for lunch was the very busy fun Tea Gardens Hotel. The atmosphere was electric and the food was excellent. All in all a good choice!
There are 4 restaurants/cafes that interest us when we return:
Mumms on the Myall – 46 Marine Drive Tea Gardens overlooking the Myall River
Open: Breakfast Saturday and Sunday 08.30 am – 10.30 am
Lunch – 10.30 am – 2.00 pm
Dinner Wednesday and Saturday from 5.30 pm
Tea Gardens Boatshed – 110 Marine Drive Tea Gardens overlooking the Myall River
Open: breakfast 7.30 am – 11.00 am
Lunch: 12.00 – 2.30 pm
Tillermans – 77 Marine Drive Tea Gardens
Open from: Thursday – Sunday from 8.30 am – 2.00 pm
Friday & Saturday night by booking only
Hook n Cook – 77 Marine Drive for fish and chips
Open: 10.30 am to 6. 45 pm
Where to Stay in Port Stephens
There are many areas to stay in Port Stephens such as Nelson Bay, Anna Bay, and Shoal Bay but this time we chose to stay in the Oaks Pacific Blue Resort at Salamander Bay
Salamander Bay is centrally located to see all that the Port Stephens region has to offer.
What To Do in Port Stephens and Surrounds
If you have one day in Port Stephens we would recommend:
In the morning visit Tomaree National Park for hikes and walks. Allow 2- 3 hours for a variety of walks. Gan Gan Lookout at Lily Hill Road Nelson Bay is worth a visit. Allow 30 minutes at the lookout.
Lunch: Visit Murrays Craft Brewery at 3443 Nelson Bay Road Nelson Bay for a range of craft beers, Australian wines, great food and a gourmet produce shop.
Opening hours: 10.00 am to 6.00 pm
Afternoon: Visit the Port Stephens Koala Sanctuary at 562 Gan Gan Road One Mile Port Stephens.
Opening hours: 9.00 am to 5.00 pm – in winter they close at 4.00 pm.
You can purchase tickets in advance here
If you have 2 days to spend in Port Stephens:
Visit the Nelson Bay Lighthouse at 5A Lighthouse Road Nelson Bay and enjoy morning tea at the Inner Light Tea Rooms which is open from 8.30 am daily and close at 3.00 pm
Visit Nelson Bay township for shopping, street art, the harbour, restaurants and cafes.
If you are interested in a tour or two we can recommend the following:
Port Stephens to Port Macquarie
Driving time 2 hours 50 minutes – 250 km journey Pacific Highway/A1
Where to stay in Port Macquarie
In Port Macquarie, we stayed at the Ibis Styles – 4-star accommodation in a great location with an easy walk into town, views, a swimming pool and a very comfortable stay. You can read our review here.
What to do In Port Macquarie
Depending on what you are interested in there is so much to do here you can allow at least 2 days even 3 days.
Visit Port Macquarie's historical buildings that date back to the early 1800s
Wander the Hello Koala Sculpture trail – with over 80 koalas in the area
Visit the Koala Hospital
Wander along Port Macquarie's break wall
Visit Port Macquarie's Lighthouse
Take a 15-minute scenic helicopter flight – check availability here
Visit the local wineries
Get lost in the Bago maze
Take coastal walks
Enjoy the local beaches
Port Macquarie to Nambucca Heads
We travelled from Port Macquarie to Beechwood to have lunch at the Beechwood Hotel. It is a short journey of 27 km with an average driving time of 26 minutes. The Beechwood Hotel was named the best hotel in the Wotif 2021 Uniquely Aussie Awards. It is a traditional country pub and on the weekends you may encounter the locals riding their horses to the hotel and tying them up outside on the railings and popping in for a cold beer or two.
Distance from Beechwood to Nambucca Heads
After a great lunch enjoying the antics of the locals we headed off to Nambucca Heads – a distance of 117.3 km with a driving time of 1 hour and 20 minutes.
Where to Stay in Nambucca Heads
We were fortunate to be able to enjoy the delights of the new The Beach Rooms in Nambucca Heads overlooking Gordon Park with stunning views of the river and ocean. The Beach Rooms offer funky accommodation, with a range of accommodation that suits families, couples and singles. There is on-site parking available, wifi and a shared kitchen/lounge area. You can read our review of our stay here
What to do in Nambucca Heads
Nambucca Heads is known for its 23 km of coastline. it is a great family destination where all can enjoy swimming, surfing, boating and visiting the towns of the hinterland.
You can read our article on things to do in Nambucca Heads here
What towns to visit in the Hinterland of Nambucca Heads
Bellingen
Bellingen is 37 km from Nambucca Heads with an average driving time of 30 minutes. Bellingen lies halfway between Sydney and Brisbane. For a small town, it punches a great funky bohemian vibe.
Bellingen is located by the Bellingen River along the Waterfall Way. The Waterfall Way runs from Coffs Harbour to Armidale for 185 km through rainforests, river valleys and waterfalls.
Why visit Bellingen?
Enjoy the many cafes and restaurants
Wander the main street and admire the historical buildings
Attend the local markets on the 2nd, 3rd and 4th Saturdays of the month
Shop the arts and craft galleries at the Old Butter Factory on the outskirts of town
Enjoy a picnic by the Bellingen River
Raleigh
A highlight of taking time out of the day is to visit the Raleigh Winery at 36 Queen Street. Enjoy a spectacular lunch at the Raleigh Winery Restaurant and you can even spend a night or two at Raleigh House just a few steps from the cellar door and restaurant.
Urunga
Distance from Raleigh to Urunga 4 km with an average driving time of 5 minutes.
Urunga is a small town north of Nambucca Heads. It is famous for its surfing, fishing and boating. Take a walk along the waterfront and enjoy the Urunga Boardwalk which is 1 km in length and it is also wheelchair friendly. Urunga is also where two rivers meet – the Bellinger and the Kalang. You may be lucky to see a pod of dolphins when you visit. During May and November you can see the migration of whales.
Nambucca Heads to Yamba
The distance between Nambucca Heads and Yamba is 180 km with an average driving time of 2 hours and 5 minutes.
You can take a break and stay at Coffs Harbour along the way. The distance between Nambucca Heads and Coffs Harbour is 48 km with an average driving time of 40 minutes. Another option is to break the journey in Sawtell just 15 minutes south of Coffs Harbour. Sawtell is a pretty town, the main street is full of cafes and boutique shops and has a lovely landscaped central median strip.
We chose to stop at Sawtell for lunch. Friends of ours live in Sawtell and we met up with them at The Hilltop Store for lunch. We can recommend their tasty seasonal menu for brunch or lunch. They are also licensed.
Address: 114 First Avenue Sawtell
Distance between Nambucca Heads and Sawtell – 44 km average driving time 33 minutes.
Distance between Sawtell and Yamba – 143 km average driving time 1 hour 40 minutes
Where to Stay in Yamba
There are over 177 properties to choose from to stay in Yamba.
We chose to stay at the Angourie Resort in Yamba, 5 minutes away from the beach. The resort has a range of accommodation that suits families and couples. There is a large outdoor pool, children's pool and play area, day spa, tennis and restaurant.
You can read our review of our stay here
What To Do in Yamba
There is so much to do and see in Yamba, you should allow at least 3 nights here.
The highlights are:
Angourie Blue and Green Pools – great for swimming and family picnics, a very scenic spot, easy to park
Swim at Yamba's 5 beaches
Do the Yamba historical walk to learn more about its history
Visit the Yamba Museum
Visit the Yamba Lighthouse
Enjoy the local markets
Visit the Wobbly Chook Craft Brewery
Enjoy the many cafes and restaurants
Yamba to lennox Head
The distance between Yamba and Lennox Head is 112 km with an average driving time of 1 hour and 20 minutes.
We chose to stay in Lennox Head rather than the very busy touristy town of Byron Bay. Byron Bay is 20 km away from Lennox Head and depending on traffic it is a 20-minute journey. At school drop off and pick up times the journey can take a little longer. Lennox Head is a quieter place to stay and perfect for families, couples or friends. There are restaurants, a cliffside walk, surfing, 4 WD driving, kayaking and boating on the Tea Tree Lake.
Lennox Head is a good base to visit the hinterland towns.
what To Do in and Around Lennox Head
Highlights of visiting Lennox Head and the Surrounding Hinterland:
Enjoy a 2 hour group surf lesson in Lennox Head
Kayak, canoe and stand up paddleboard on Lake Ainsworth (aka Tea Tree Lake)
Paraglide and hang glide from Lennox Head
Whale watching from June to October from Byron Bay
From Byron Bay – Hinterland Magic and Glo Worm experience – Go for a refreshing swim at a secluded waterfall. Walk among ancient trees and visit one of the highest waterfalls of the region. Adventure into the magical forest where glowworms light up the scene.
From Byron Bay a sea kayak adventure – Enjoy a 2.5-hour sea kayak tour on the pristine waters of Byron Bay. On the tour, lookout for native marine life, such as Pacific bottlenose dolphins and 3 different types of turtles. At the end of the tour, try surfing a wave to shore on your kayak.
Visit Seven Mile Brewery in Ballina
Visit Husk Distillery in North Tumbulgum
Visit the hinterland towns of Newrybar and Bangalow
Enjoy the region's cafes and restaurants with their inspirational menus with sourced local produce
Top Adventures Tours Around Byron Bay
Big Day Out Byron Hinterland Tours
• Bush walk through ancient rainforests in the world heritage listed Nightcap Nationalpark
• Discover stunning Minyon Falls with breath taking views
• Enjoy a delicious BBQ style lunch
• Visit the famous little town Bangalow with its fascinating mix of local shops, galleries and cafes
• Weave your way trough beautiful landscape as you return to Byron Bay
Book Now
Byron & Beyond Tour
Itinerary:
Drive up to the iconic Byron Bay Lighthouse for the best ocean and Byron Hinterland views and to spot migrating whales (between May and October) and local dolphins
Visit The Farm, a real working local farm with a range of different growers, producers, eateries, shops and kids activities
Experience magical Crystal Castle and walk through stunning gardens, touch the world peace stupa and enjoy the beauty of crystal from giant formations to exquisite jewellery
Have a delicious locally sourced BBQ-style lunch
Stop at the historical little town of Bangalow and tour its fascinating mix of local shops, galleries and cafes
Weave your way through beautiful landscape as you return to Byron Bay
Book Now
Half Day Out Byron Bay Tour
Itinerary:
Visit the Byron lighthouse and have your photo taken at Australia's most easterly point
Watch whales (June-Oct), dolphins and sea turtles along the coast
Tour the sustainable-farming and food experience that is The Farm
Visit the beautiful little hinterland town Bangalow
Book Now
Where To Stay in Lennox Head
There are 82 properties to choose from to stay in Lennox Head.
We chose to stay in an Airbnb property opposite the beach. The property has a funky style and has been designed by an interior designer. La Luna is suitable for 6 guests, 2 bedrooms, 4 beds and 2.5 baths. There are two outdoor dining areas, a spa and an outdoor shower. Three bikes and 2 kayaks have been provided by the owner.
Country NSW Road Trip from Lennox Head to Sydney
Our inland NSW road trip itinerary:
Lennox Head to Uralla via Tenterfield and Glen Innes
Uralla to Wingham via Gloucester
Wingham to Sydney
Lennox Head to Uralla
What a stunning scenic drive from Lennox Head to Lismore and Casino onto Tenterfield. Driving distance of 197 km and an average driving time of 2 hours and 51 minutes.
Our aim was to visit Tenterfield for lunch and to visit the Tenterfield Saddler made popular by singer Peter Allen. Unfortunately, due to Covid, the Tenterfield Saddler was closed. The store is run by volunteers and contains a lot of historical items. Maybe next time!
Where to have lunch in Tenterfield?
The Courtyard Cafe is located at 203 Rouse Street in the historic Sir Henry Parkes School of Arts Building.
The cafe is open for breakfast, morning tea, lunch and afternoon tea from 9.00 am to 3.00 pm. The cafe has an extensive menu to suit all palates and there is a choice to sit in the courtyard or inside. It is a popular venue for the locals.
Tenterfield to Uralla via Glen Innes
The next stage of the journey was 211 km from Tenterfield to Uralla, with an average driving time of 2 hours and 25 minutes.
We wanted to stop in Glen Innes briefly to view the Australian Standing Stones at Centennial Park. "The Stones celebrate the Celtic nations whose descendants contributed to the Australian way of life and reflect the movement of the Earth around the sun, an important feature of Celtic life." source Visit NSW
There are many things to do in Glen Innes so plan to spend a few nights.
Good to know: The New England Highway/A15 was a quiet road and road conditions are not the best. We would recommend that you drive carefully and keep an eye out for potholes. I am used to driving on country roads and always ensure that I have a full tank of petrol and bottles of water. Wifi reception was poor in the area as well.
Where to Stay in Uralla
In Uralla, we stayed in an Airbnb 1 bedroom property that belongs to a local horse whisperer. The property was located a few kms out of town in a beautiful countryside setting. Our apartment was attached to the main house with views over the countryside. It is pet-friendly. More details can be found here.
What to do in Uralla
There are plenty of things to do in Uralla to keep you occupied for a day or two:
Visit the Barking Dog Gallery at 36 Bridge Street
Visit the Uralla Foundry Museum at the corner of Salisbury and East Streets – established in 1872 the foundry until recently was the oldest foundry still operating in Australia. Ring for appointments on 02 6778 6420
Collect your free Heritage Walk from the Visitors Centre
Visit the McCrossin's Mill Museum, Gallery and Function Centre at 31 Salisbury – the historic 3 storey flour mill houses exhibits, tells the story of Thunderbolt, artefacts from the goldfields and the story of the Chinese Joss House.
Whyworry Wines (Kingstown Road, Kingstown)and the distillery of Eastview Estate at 298 Kentucky Road, Kentucky.
Visit Greenhill Orchards at 670 Hawthorne Drive at Arding – a working family orchard producing summer fruits and apples and pears
Visit Sunhill Dairy Goats at 645 The Gap Road Uralla – meet the goats and taste their cheese – tours are available
Visit Berry Good Berries at 70 Goodes Road Uralla – pick your own fruit
Visit Uralla Combined Indoor Market on the 4th Saturday of every month between 9 am and 12 pm in the Memorial Hall in Salisbury Street Uralla
Visit the Kentucky Seasonal Craft & Produce Market 2nd Sunday of each season in the Memorial Hall Kentucky from 9 am to 1 pm for local produce, arts and crafts
Visit Dangars Gorge & Falls along Tourist Drive 19, 35 km east of Uralla
Where To Eat in Uralla
The Top Pub in Uralla is the popular place to eat in town. The restaurant was excellent, with a great menu and wine list, you do need to make an advanced reservation. There is an outdoor and indoor eating area as well as the main bar. We would definitely return.
Address: 23 – 27 Bridge Street Uralla
Open: Daily except for Christmas Day. Lunch from 12.00 pm to 2.30 pm. Dinner from 6.00 pm to 9.00 pm
With dishes such as African Spiced Lamb Rack, Fig and Brie Garlic Roasted Chicken to gluten-free and vegetarian options such as Thai Crispy Tofu and homemade spinach pie- no wonder the restaurant is booked out in advance. Did I also mention the mouthwatering desserts on offer too!
New England Brewery
Next to the Top Pub at 19 Bridge Street is the New England Brewery with a range of craft beers and their speciality IPAs. Currently, they open from Wednesday to Saturday. Check their times here.
Other places to eat out in Uralla Shire are:
Cafe Gusto for Italian Cuisine at 46 Bridge Street Uralla – open Thursday to Sunday for lunch and dinner
Michael's Cafe, Deli & Catering at 98 Bridge Street – open Monday to Friday 6.30a am to 4.00 pm (closed Thursdays) for coffee, all-day breakfast, fruit platters and veggie packs
Thunderbolt Inn Cnr Bridge & Hill Streets Uralla – open for lunch and dinner 7 days a week -for good pub food
Uralla to Wingham via Gloucester
Distance: 254 km driving time average 3. 5 hours from Uralla to Wingham on the Thunderbolts Way. The road is named after a local bushranger, Frederick Ward, who roamed around the New England region in the 19th century. The road is steep in parts and is not in good condition.
The town of Gloucester is located in the Barrington Coast Hinterland and it is the closest town to the Barrington Tops National Park. The Gloucester River runs through town and you can wander along the riverbank.
The Gloucester Information Centre is one of the best we have encountered. Not only were they open, but also open on a weekend, with very knowledgeable staff and lots of information on the area.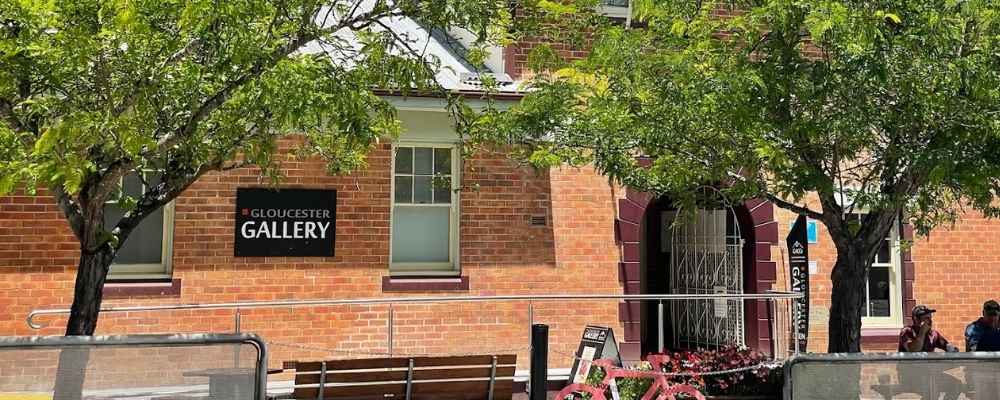 What to do in Gloucester
Go hiking – for more information click here
Visit the historic towns of Nabiac, Stroud, Patterson and Dungog
Visit Villa d'esta winery at 2884 Wallambah Rd, Dyers Crossing
Visit Gap Hill Winery at 8 Gap Hill Road Stroud Road Stroud
Visit Tugwood Winery at 450 Mograni Creek Road, Gloucester NSW
Visit Gloucester River Wines at 51 Stantons Lane Gloucester
Grab a juicy meat pie from Hebbys Bakery at 55 Church St Gloucester
Take a scenic drive through the National Parks – more information here
Where to Stay in Gloucester
There are 11 properties available to stay in Gloucester NSW
Gloucester to Wingham – 68.7 km average driving time 55 minutes
Where To Stay in Wingham
Unfortunately, our beautiful farm stay in Wingham had to close shortly after we stayed there.
There are 5 properties available to stay in Wingham.
The other alternative is to stay in Taree where there are 17 properties available. Taree is 9 km from Wingham with an average driving time of 9 minutes.
What To Do in and Around Wingham
Wander the streets of Wingham and enjoy the street art
Dine at Bent on Food
Admire the historical buildings in town
Have a beer at The Australian Hotel
Visit the Manning Museum
Wander Wingham Central Park
Take the Wingham Self-Guided Heritage Walk
Visit the Coorabakh National Park
Visit Ellenborough Falls, one of Australia's top ten waterfalls
Visit Potaroo Falls
Visit Saltwater National Park
Visit Crowdy Bay National Park
Explore the Manning River – a fishing and boating paradise
Visit Tapin Tops National Park
Take a self-guided Cattai Wetlands walk
Enjoy dinner at the Wynter Tavern 1 Bushland Drive Taree not far from Wingham
Wingham to Sydney
The final leg of our north coast of NSW road trip.
Distance from Wingham to Sydney 321 km with an average driving time of 3 hours 38 minutes.
Conclusion
We hope you enjoyed our article on our North Coast Road Trip travelling via the coast and returning via the country. Feel free to share our article with family and friends. If you have any questions please contact us or post your question on our private Facebook group here.
Do you need to hire a car for the road trip? Find out more details here
Maybe you are considering hiring a campervan – find out more here
If you need travel insurance – check out the latest quotes here
Pinterest – save our article on your travel board for future reference. You can join our Pinterest Boards here.
More reading: