Are you looking for accommodation at Yamba? We carried out our research for accommodation in Yamba and after looking at many properties we chose the Angourie Resort.
Although there were only the two of us this time, we were researching accommodation for our family and grandchildren to be able to join us in future holidays. The Angourie Resort ticked all of the boxes for us.
Why we chose Angourie Resort Yamba
We wanted a resort that offered:
apartments or villa accommodation
two or three bedrooms
day spa
swimming pool
tennis courts
restaurant
close to Yamba but in a natural setting away from the busyness of the town
fully equipped kitchen
washing machine and dryer
oven and stovetop if we decided to stay in one night
dishwasher (a bonus)
The last villa available was a deluxe 2 bedroom villa – just perfect for us to road test it!
Our review of our stay at the Angourie Resort
Check-in was quick and efficient with excellent recommendations from the staff on what to do and where to eat.
Covid check-in regulations were clear and were carried out in an efficient manner.
Our 2 bedroom deluxe villa
What we loved: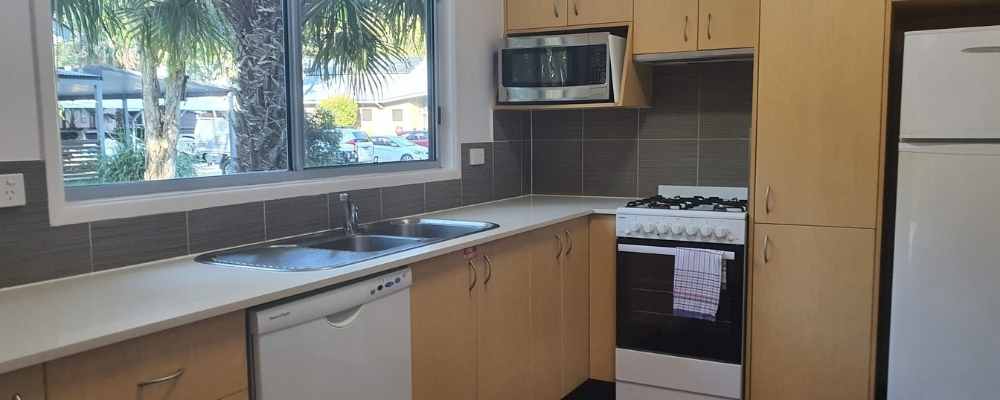 undercover car parking attached to the villa
large fully-equipped kitchen
ample dining and lounge areas for all the family
undercover large wrap around verandah with a dining table and lounge areas to relax in
spacious bathroom
a desk for us to work on
spacious bedrooms
air-conditioning
washing machine and dryer
two swimming pools – one for children
childrens playground area
pool bar
Adults only Jacuzzi area
During our stay, we used the pool but ran out of time to enjoy the day spa, restaurant and tennis courts. Although we did have time to enjoy a few drinks from the pool bar after a day of sightseeing around Yamba.
Address: 166 Angourie Road Yamba
What type of accommodation do they have available?
Accommodation at Angourie:
One-bedroom apartment with spa bath
One-bedroom apartment ground floor
Deluxe two-bedroom villa
Standard two-bedroom villa
Two-bedroom villa – disability access
Would we stay here again with the family?
Yes, we would. It was in the perfect location in a quiet setting outside of Yamba. Everything that we would need for a family holiday was provided for us!
4.3 km away was Yamba Fair with Coles Supermarket, butchers, medial centre, cafes and more.
Conclusion
We hope you enjoyed our article on the Angourie Resort in Yamba. Feel free to share our article with family and friends. If you have any questions about our stay please reach out to us. If you have stayed in Yamba and have some recommendations please share with our community on our Staycation Australia private Facebook group which you can join here.
Do you need travel insurance?
For more information on travel insurance or domestic travel click here.
Do you need to book a flight to Ballina the closest airport?
For more information on who flys to Ballina, flight times and prices click here for more information.
Car Rental
For more information on car rental click here
Pinterest
Pin our article for future reference on your Pinterest Boards. You can join our Australian Pinterest Boards here.
More reading: