Are you planning a visit to Rottnest Island? Such a great choice and one that is fun for all.
Rottnest Island is a popular destination within easy reach of Perth, Fremantle and Hillarys Boat Harbour. One of the many attractions is the Rottnest Island animals the cute Quokkas, a type of small wallaby. There are many bays and secluded beaches to visit all within easy reach by bicycle as cars are not allowed on the island. There are service vehicles and buses but the bicycle is the way to go which can be rented prior to boarding the ferries or on arrival on the island. If you have your own bicycles you can take them with you too.
Visitors enjoy Rottnest Island beaches and you can even enjoy snorkelling when the weather and water is calm.
How big is Rottnest Island?
Rottnest Island is 4.5 km wide at its widest point and 11 km in length.
Rottnest Island Map
Rottnest Island Ferry Tickets
Rottnest Island ferry times differ depending on whether you are departing from Perth, Fremantle or Hillary's Boat Harbour.
Rottnest Island Ferry Tickets from Fremantle
Take a journey to Rottnest Island at your leisure and enjoy a wide range of activities. Choose from variety options of same-day or extended-return ferry tickets departing from Fremantle.
Rottnest Island Ferry Tickets from Perth
Explore Rottnest Island at your leisure and enjoy a wide range of activities. Choose from same-day or extended-return ferry tickets departing from Perth.
Rottnest Island Ferry Tickets from Hillary's Boat Harbour
Hillary's to Rottnest Island takes 40 minutes.
Rottnest Island Package Tours
Rottnest Island Package Tours from Fremantle
Ferry From Fremantle and Bike Tour
Escape from Fremantle city and discover Rottnest Island by bicycle. Experience over 63 beaches as you explore this unique island. Enjoy a combined same-day return ferry with bike hire and experience Rottnest as the locals do.
From Perth or Fremantle – Rottnest Island Seafood Cruise
Feast on a 7-course lunch designed by executive chef Tony Howell, showcasing fresh local lobster and seafood, with premium drinks. Cruise, swim, and relax in pristine bays with beautiful views.
From Perth or Fremantle – Rottnest Ferry & Bus Tour
Enjoy round-trip ferry transfers from Fremantle or Perth to Rottnest Island
Explore the island with your air-conditioned 1-hour 45-minute bus tour
Discover the amazing flora, and wildlife, as well as colonial and maritime history
From Perth or Fremantle – Rottnest Explorer Segway Tour
Enjoy a day trip to Rottnest Island with a return ferry from Perth or Fremantle
Retrace the island's Colonial settlement history on a fascinating 1-hour Segway tour
Spend the afternoon exploring at your own leisure, visiting the sights that appeal to you most
Go in search of the adorable, native quokkas that inhabit the island
From Perth Rottnest Island Ferry Tickets and Bus Tour
Spend the day at Rottnest Island with ferry transfers from Perth
Explore the island on a 1.5-hour discovery bus tour with a local guide
Get an insight into Rottnest's cultural and historical heritage, its diverse animal and plant life and its rich social history
Stop at all the spectacular locations on the Island like secluded bays, beaches, and Wadjemup Lighthouse
From Perth – Grand Island Tour with Ferry Tickets
Explore the best of Rottnest Island on a full-day all-inclusive tour
Enjoy sightseeing and morning tea at Hillary's Boat Harbour
Discover the island on a 3.5-hour fully guided tour by bus
Climb aboard a historic train for a unique perspective of the island
See all of Rottnest Island's best attractions, both natural and man-made
From Hillary's Boat Harbour – Ferry tickets and bus tour – Bayseeker Tour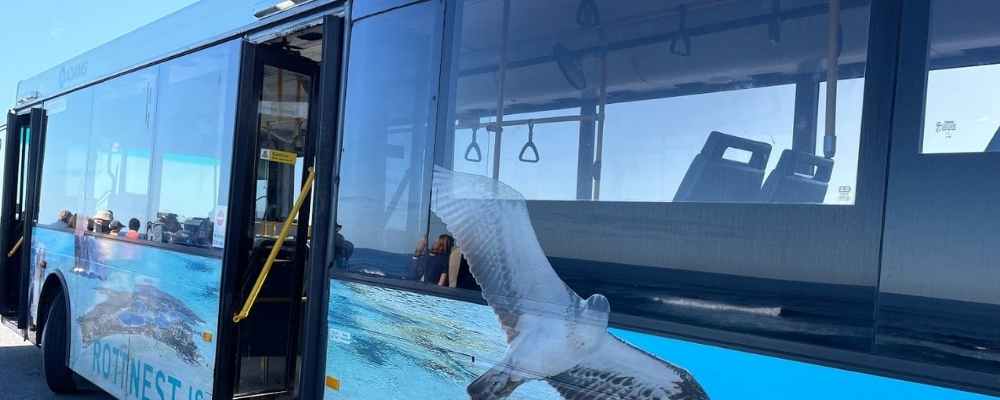 This is the tour that we took on our trip to Rottnest Island.
Return ferry transfers
Hotel transfers included
Guided island bus tour
Explore the beautiful sights of Rottnest Island
Enjoy the wildlife that inhabits Rottnest
Take in the historical, cultural & natural interest points
Tours Available on the Island
Rottnest Island Bus Tour
Visit beautiful Rottnest Island, separated from the mainland 7,000 years ago
Encounter quokkas and enjoy the happiest animals on earth
Go to Henrietta Rocks, where a shipwreck is still visible in the turquoise water
Explore the military history at Oliver Hill
Get spectacular views from the Cape Vlamingh Viewing Platform
Rottnest Island Bike Tracks
Easy 5 km – travel around the North of the Island exploring the beaches and there is great snorkelling available. If you want to add a further 7 km head to Little Salmon Bay and Parker Point.
Moderate 11 km – Swim through a shipwreck at Henrietta Rocks, snorkel at Little Salmon Bay and Parker Point, and see the stunning views from the Lighthouse. Head to the pink salt lake before heading back to the main Settlement.
Hard 22 km – The Loop. Cycle the whole island stopping off at the many beaches along the way, snorkel through the shipwreck at Henriette Rocks, stop off at Geordie Bay for lunch before heading back to the main settlement.
Rottnest Island Free Tours
Salt Settlers & Survivors
Daily at 10 am meet at the Salt Store – 45 minutes tour
Learn about the early inhabitants and how they lived on Rottnest Island and made it self sufficieint
Pioneers and Prisoners
Daily at 11 am meet at the Salt Store – 45 minutes tour
Enjoy hearing about the people who built and lived in the Settlement's historic buildings and their stories of life on Rottnest Island
Meet The Quokkas
Daily at 9.30 am and 2.30 pm meet at the Salt Store – 45 minutes
Meet the cute Quokkas and learn more about their habits and get your own selfie taken with a Quokka
Reefs, Wrecks and Daring Sailors
Daily at 2.00 pm meet at the Salt Store – 45 minutes
Walk from the Salt Store and discover the stories of early European ships, their treasures and the shipwrecks
West End Wanderer Walk
Daily at 10.30 am and 1.30 pm meet at West End – on request
Look out for the wandering volunteer guides who can tell you about the West End and the best place to see the fur seal colony
Whitecaps and Wilderness
Every day between 10 am and 1 pm – at Parker Point – 30 – 45 minutes
Learn more about the flora and fauna of the area, the sea shores and the formation and geology of Rottnest Island
Rottnest Island Paid Tours by Voluntary Guides
Oliver Hill Gun & Tunnel Tour
Every day at 10 am to 2 pm (on the hour) – tickets to be purchased from the Visitor Centre and Oliver Hill
Adults $15 Children $7 Concession $12
Family (2 adults and 2 children) $34 extra child $3
Explore and learn about the significance of Oliver Hill and why the guns were installed on Rottnest Island
Wadjemup Lighthouse Tour
Every day 10 am to 2.30 pm (every 30 minutes) meet at the Wadjemup Lighthouse
Tickets available at the Visitor Centre and at the Lighthouse
Adults $15 Children $7 Concession $12 Family (2 adults 2 children) $34 Extra Child $3
Discover all about the working lighthouse and climb the stairs to experience 360 degree views of the island
Museums & Galleries of Rottnest Island
Pilot Boathouse
Thomson Bay Every day 1 pm to 3 pm
See historic photos and a replica pilot boat
Lomas Cottage & Art Exhibition
Heritage Common Every day between 9 am to 3 pm
The cottage was built for John Lomas an ex convict for whom the Government provided housing and provisions
Wadjemup Museum
The Settlement Every day 10 am to 3.30 pm. Gold coin on entry
Housed in the Old Mill and Hay Store where you can visit exhibits depicting the island's cultural and natural history.
Check Out School Holiday's Activities
Each school holiday the Rottnest Voluntary Guides Association offers programs packed full of fun for all the family. Unless stated all activities are free and last one hour.
There is a Family Quiz Night – tickets to be purchased at the RVGA Informtion Booth next to the Salt Store or online.
7 pm on Thursday nights. 2 hours. Adults $15 School Students $7 Family $40 (2 adults and 2 children)
Activities include:
Bickley Battery Walk – Kingston Barracks to explore the remnants of the WWII coastal defences
Birds & Beasts of Rottnest – meet Rottnests birds, reptiles and mammals in their natural habitats
Mysteries, Myths & Legends – Meet characters from Rottnest Islands' rich history and hear their stories at night. Bring your torch.
Night Skies – bring your torch and take a look at the planets and stars in the beautiful Rottnest night sky
Pirate Pete (age 10 years and under) Join Pirate Pete's crew and hunt for hidden treasure and learn about the mysteries of the deep blue sea
Quokka Tales – Okka the Quokka stories and colouring in
Sand sculptures challenge on Thomson Bay Beach near Hotel Jetty – look out for the banner on the beach at 10 am with judging at 11 am
Sunsets at Vlamingh Lookout – stroll to Vlamingh Lookout for the outstanding view of the sun setting over the salt lakes. Hear stories of the Dutch explorers, first settlers and the island's natural history.
What's Behind Geordie – learn about what is around Geordie Bay, the salt lake ecosystem
You Can Minimise The Impact of Your Visit to Rottnest Island
If you are a day visitor
Carry a reusable water bottle (drinking water is limited outside the Settlement) you can refill at Army Groyne, Geordie Bay Mall, Pedal & Flipper, Settlement Mall, The Basin, Visitor Centre
Take your rubbish home with you
Do not touch or feed Quokkas
Do not bring or take away with you flora and fauna
If you are staying on the island
Save power turn off all lights and appliances when leaving your accommodation
Conserve water by taking quick showers and turning off the tap when brushing your teeth
Dispose of your rubbish responsibly
Main Points of Interest on Rottnest Island
Oliver Hill Battery
Oliver Hill Battery was one of seven gun emplacements built between 1937 and 1945 to defend Australian Ports from bombardment by warships. The 9.2 guns could fire to a distance of 28 km. By 1960 it was closed down but is now a historic site for visitors. Oliver Hill is also home to underground tunnels, railway lines, paths and a remnant coastal defence system structure. It is located 3.5 km from the Settlement and the site is spread over 3.5 km.
Signal Ridge
Wadjemup Hill was chosen as the first and then the existing second Rottnest Island lighthouse back in the mid-1800s. The site was chosen as it was 50 m above sea level. The role of the signalmen was to communicate by using flags and lanterns to incoming ships. The original station was demolished in 1939 and replaced with the existing one. There is a 360-degree observation verandah on the upper level and an adjoining timber tower.
What's Available on Rottnest Island
Hire Shops:
Boating West
Pedal & Flipper – Rottnest Bike Hire
Quokka Hopper
Rottnest Island Restaurants and Bars: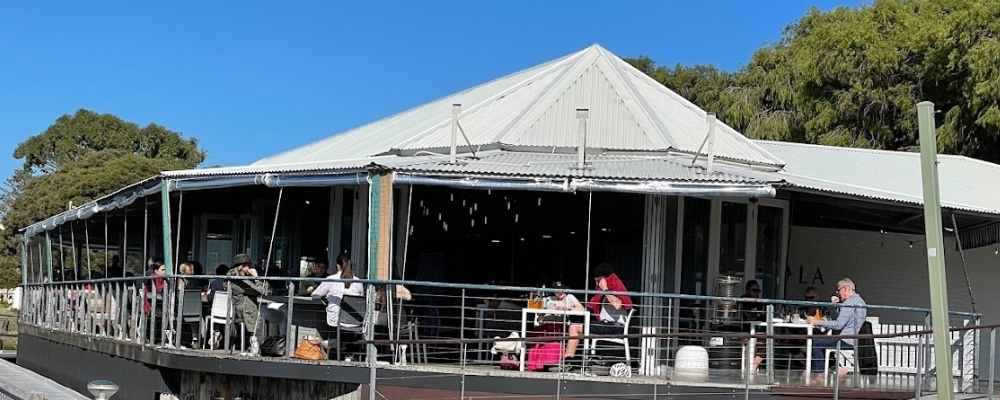 Good to know – check the opening and closing times of the restaurants and bars as some close early:
Dome Cafe
Frankie's on Rotto
Geordie's Cafe and Art Gallery
Hotel Rottnest
Isola restaurant
Karma Rottnest Gov's Sports Bar
Karma Rottnest Riva Restaurant
Courthouse Bar
Lontara
Pinky's Beach Club
The Top Bar (seasonal)
Boost Mobeel Rottnest (seasonal)
It's Bratwurst Time (seasonal)
Kalli's on Rotto West End
Lexi's on Rotto – Wadjemup Lighthouse
Oakberry Acai (seasonal)
Simmo's Icecream
Subway
The Lane
Groceries and Bakery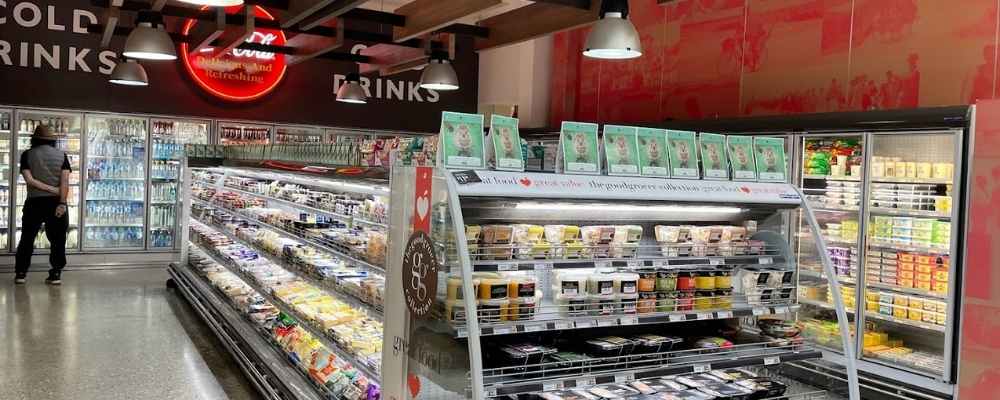 General Store for all your Rottnest Island food requirements – there is a great range – it is an IGA market
Geordie Bay General Store
Rottnest Bakery
Shopping and Beauty
Indianic Rottnest Island
Karma Day Spa
Salt Store
Where To Stay on Rottnest Island
Thee is a variety of accommodation on Rottnest Island.
Camping on Rottnest Island
There are unpowered, sand-covered sites with communal kitchen and shower facilities at the camping ground close to the Basin and Settlement.
Discovery Rottnest Island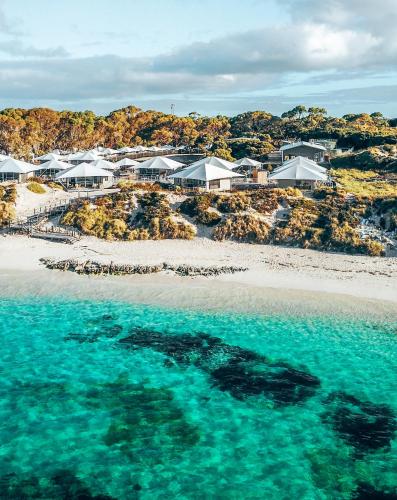 83 luxurious glamping tents set amongst the sand dunes behind Pinky Beach – 1 km from the Main Jetty. A continental breakfast or buffet breakfast is offered. The tents include a private bathroom with shower, hair dryer and free toiletries.
Guest review: The tents were lush, the beds were soooo comfy with beautiful warm and luxe bedding. The location on Pinky's beach is perfect, however still close enough for a short ride or walk into town. Loved the bar, restaurant and the beach and sunset was divine. The buffet brekky was great.
Karma Rottnest
A unique hotel suitable for solo travellers, couples and families. There are a range of accommodation from standard rooms, deluxe rooms to suites.
Guest review: a great place to stay.
Rottnest Hostel
Family rooms and shared dormitories are available at Kingstown. Book here for the Rottnest Hostel.
Samphire Rottnest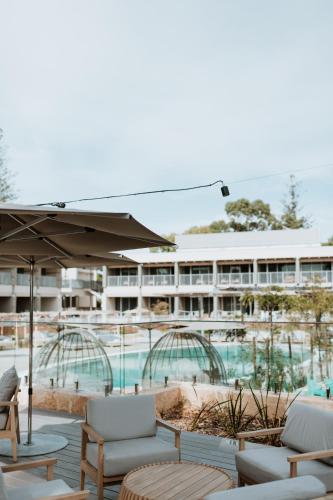 The 4-star Samphire Rottnest offers guests 80 spacious rooms with balconies, a swimming pool and Beach Club.
Guest review: Great location and lovely room. Ideal for a bit more of a fancy stay at Rotto. Would definitely stay again.
Self-contained Units and Cottages on Rottnest Island
A wide range of 4, 6 and 8 bedroom cottages, cabins and units around the Settlement and Bays.
Guest review: Good value for money
Related Reading: We stayed close to Hillarys Boat Harbour at Sorrento beach- you can read our review of the Quality Resort Sorrento Beach here
Weather Rottnest island
When is the best time to visit Rottnest Island?
If you want to swim or snorkel October and November are the best months to visit Rottnest Island as the waters are the calmest. Spring and Autumn are the best seasons. The Christmas School holidays are the busiest, followed by the other school holidays, Easter and public holidays.
ATMs on Rottnest Island
There are three ATMs on Rottnest Island – one is located near the Main Jetty at Thomson Bay (The Settlement), one near Karma Rottnest and the other on the way to Samphire Rottnest.
Wifi on Rottnest Island
Free Wifi is available in the Settlement.
Useful Phone Numbers on Rottnest Island
For life-threatening emergencies – Dial 000
Nursing Post – T 9292 5030
Police – T 131 444
Rangers on Rottnest Island – T 9372 9788
Rottnest Island Visitor Centre – T 9372 9730
Travel Insurance
We always recommend taking out travel insurance. Click here for more information
Flights to Perth
For the latest airfare deals to Perth click here
We have created a Facebook private group – Australia Travel Planning to assist you in planning your next Australian staycation.
Pinterest
You can save our articles to your Pinterest boards here. You can join our boards here.
Conclusion
We hope you have enjoyed our article on things to do on Rottnest Island. Feel free to share our article with family and friends. We would love to hear from you if you have visited Rottnest Island and also share what your highlights were.