Are you planning a Southern Highlands NSW getaway? The Southern Highlands is one of NSW's top getaways. Just a 2-hour drive from Sydney and 2 hours from Canberra it is the perfect weekend getaway or a midweek break at any time of the year. Whether you are travelling with family, friends, or on your own there is plenty of things to do in the Southern Highlands to please everyone. It is the prettiest region in NSW and one of the best all seasons destinations too!
It's my hometown and region and I could be a little biased. If you are planning on visiting feel free to reach out and ask any questions you may have. In the meantime, sit back and enjoy my Southern Highlands Guide.
You may want to check out my Youtube video of the Southern Highlands below:
The 7 major towns in the Southern Highland are:
Mittagong
Bowral
Moss Vale
Berrima
Exeter
Bundanoon
Robertson
Highlights of Visiting The Southern Highlands
The Southern Highlands is home to 60 vineyards and 17 cellar doors producing some of the best cold-climate wines in NSW.
There are excellent restaurants and bars to choose from in all the towns.
Mittagong, Bowral and Moss Vale have some excellent boutique shopping if you are into homewares, antiques, fashion, books and produce.
There are incredible waterfalls and many nature walks to enjoy. Mt Gibraltar situated between Mittagong and Bowral has 4 lookouts with great views over the NSW Southern Highlands.
So whatever you love doing the Southern Highlands of NSW has something for everyone.
Map of Southern Highlands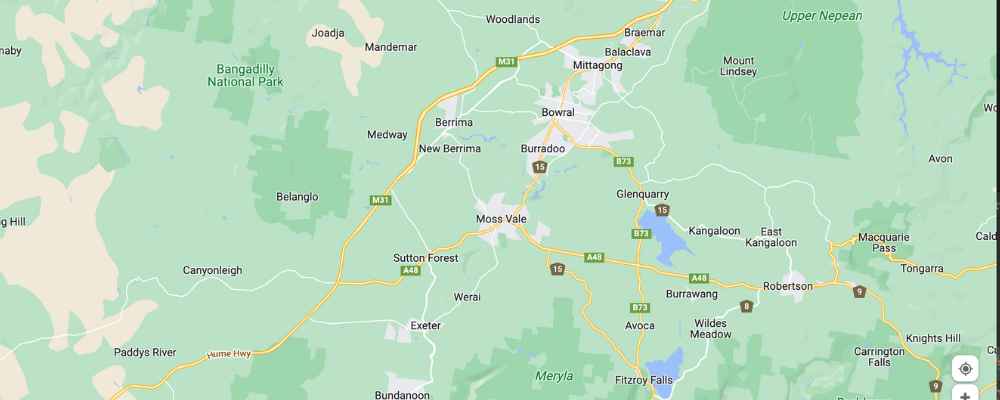 Sign up for our regular newsletter here. We won't spam you but we don't want you to miss out on exciting destinations to discover in your own backyard.
This post may contain affiliate links. Please see our disclosure for more information.
7 Towns to Visit in the Southern Highlands of NSW
Things to do in Mittagong
Mittagong is the first major town in the Southern Highlands when you travel from Sydney. It is also the site of one of the first iron ore discoveries in Australia. You can visit the Fitz Roy Iron Works that dates back to 1848 on the Cnr Old Hume Highway and Roscoe Street Mittagong in the carpark of the Highlands Marketplace Shopping Centre. Upstairs you can enjoy coffee and cake.
Travel tip: As you enter Mittagong on the left-hand side from Sydney at 62-70 Main Street is the Southern Highlands Welcome Centre. I would recommend stopping here for visitor information and what's on in the Highlands at the time of your visit. They also have for sale local wines and produce as well as small gifts.
Visit Lake Alexandra – which used to supply water for engines hauling coal to the Fitz Roy Iron Works. It is located at Queen Street Mittagong. There are facilities e.g. bbq facilities, a childrens' playground, and a 600m cycle/walk pathway.
Take a walk to the 40 Foot Falls – the track starts at the back of Lake Alexandra and is 7 km taking an average of 2 hours and 30 minutes. It is rated as medium grade. It is dog-friendly.
Visit the Mittagong Antiques Centre at 85 – 87 Main Street. Opening hours daily from 10 am to 5 pm.
Shop for homewares at Collette Dinnigan in the Old Mittagong Post Office which dates back to 1881. Open from Thursday to Saturday 10 am to 5 pm and Sunday 11 am to 4 pm. Address: Station Street Mittagong
Visit the Sturt Gallery & Studios at Range Rd & Waverley Parade, 2 Waverley Parade, Mittagong. The Sturt Gallery is home to works of art from over 300 emerging artists, they also provide workshops and classes in various crafts.
Where To Eat in Mittagong
The best Japanese food in the Southern Highlands is at Toshi's at 60 Bowral Road Mittagong.
The Shaggy Cow is open from Thursday to Monday from 8 am to 3 pm. Address: 112 Main Street Mittagong
The Four Seasons Restaurant at 24 Bowral Road Mittagong for vegan, vegetarian and rawist meals. Open from 7 am to 4 pm Tuesday to Saturday and on Sundays from 9 am to 3 pm.
The Glass Cafe at 84 Main Street Mittagong. They are fully licensed, with indoor and outdoor seating as well as a pet-friendly backyard. Open from Monday to Wednesday from 7 am to 3.30 pm, Thursday to Saturday from 7 am to 9.30 pm and Sunday from 7 am to 3 pm.
Where To Stay in Mittagong
Springs Mittagong at the Cnr of the Old Hume Highway and Bessemer Street Mittagong. Located next to the Mittagong RSL with a variety of accommodations from Deluxe and Executive king, queen, and singles, and some with spa baths.
The adults-only Fitzroy Inn at 1 Ferguson Crescent is a restored colonial sandstone inn. Take a self-guided tour through the historical inn.
Things to Do in Bowral
The largest town in the Southern Highlands is Bowral. Bowral is famous for its Tulip Time Festival in Spring and is the home of the Bradman Museum. The famous cricketer Sir Donald Bradman lived on Shepherd Street in Bowral close to the Bradman Museum.
Bowral is a town of historical buildings, large country estates and parks. Check out these Bowral attractions.
Where To Eat in Bowral
Bistro Sociale a French-inspired Bistro and Gin bar located at 6 David Street Bowral in Berida Hotel.
Onesta Cucina – for fine Italian dining located at 5 Boolwey Street Bowral
Raw & Wild Market Cafe – 250 Bong Bong Street Bowral- the best place for brunch in Bowral. The Cafe also has a range of local produce and deli products.
Where To Stay in Bowral in the Southern Highlands
The 4-star 43-room Berida Hotel is located a short distance from the Bowral town centre. Berida Hotel has an indoor heated pool, spa, sauna, tennis court and day spa. Address: 6 David Street Bowral. Whilst staying there enjoy a meal at Bistro Sociale.
The Sebel Bowral Heritage Park is a 4 star property located at 9 Kangaloon Road Bowral. Guests enjoy the indoor swimming pool, the fitness centre, golf club next door, and just a short distance from the town centre, Bradman Museum and Corbett Gardens.
Briars Country Lodge is located a 6 minutes drive from Bowral on the way to Moss Vale. Accommodation is made up of a three-bedroom apartment, a deluxe King Suite and king and twin rooms. The Briars Inn which we recommend for dining is located on the grounds.
Things to do in Moss Vale
Moss Vale is my hometown and where I went to school. It certainly has changed over the decades. It is now a bustling vibrant town with antiques, homewares and home to Birch one of 4 hatted restaurants in the Southern Highlands.
If you are visiting the Southern Highlands in March check when the Moss Vale Agricultural Show is on, it is one of the largest shows in the Southern Highlands. There is fun for all the family.
Visit the homewares emporium of Suzie Anderson at 409 Argyle Street Moss Vale.
At 420 Argyle Street you can shop for the latest unique gifts from Nest and Burrow.
Hunter and Gatherer Collections at 542 Argyle Street stock a variety of wares from all around the world.
Where To Eat in Moss Vale
The hatted restaurant Birch is located in the Old Post Office at 249 Argyle Street. The contemporary modern Australian menu highlights the best of local produce and is open Thursday, Friday and Saturday from 6 pm.
Briars Inn at 653 Moss Vale Road Burradoo (halfway between Moss Vale and Bowral). Great for kids and alfresco dining, the Inn serves a range of excellent pub-style food. The Inn was built in 1845. This was where I used to attend piano and cooking classes as it was attached to SCEGGS Girls School which closed down in the 70s.
At 490 Argyle Street, you will find the Southern Highlands Brewing Taphouse with its range of craft beers and an extensive menu to accompany its sought-after beers.
Highlands Merchant at 405 Argyle Street is open daily from 6.30 am to 2.30 pm. Check out their delicious menu for brunch and lunch.
For Spanish cuisine which equals the best in Spain try Carca Restobar at 515 Argyle Street. Reservations are required.
Where To Stay in Moss Vale
Two of our favourite places to stay are in Moss Vale.
For a unique stay we can recommend the Old Nunnery Boutique Hotel at 27 Arthur Street Moss Vale. You can read our review here. Travel tip: it is a small boutique hotel and you will need to book in advance.
If you are travelling with a group of friends or family we can recommend the Shed85 Farmstay about a ten minutes drive from Moss Vale. You can read our full review here of our family stay of 6.
Things To Do in Berrima in the Southern Highlands
An award-winning small-town Berrima dates back to the 1830s when it was on the Cobb & Co route. Enjoy a walk through the village and admire the many sandstone Georgian historical buildings or stroll along the Wingecarribee River.
Visit the Berrima Court House and its latest light and sound show – Treason, Treachery and Murder. Address: Argyle Street Berrima. Opening hours: Daily from 10 am to 4 pm.
Located on Wilkinson Street Berrima is the Nationa Trust building – Harpers Mansion. The colonial Georgian Mansion dates back to the 1830s. Harper's Mansion is set in two acres of gardens, full of cool climate heritage plants and featuring one of the largest hedge mazes in Australia.
Got a sweet tooth? Head to the Lolly Swagman at 11B Old Hume Highway Berrima.
Have teenagers in tow? Book a ghost at the Berrima Court House.
Need to stock up on jams and relishes you must visit Mrs. Oldbucks Pantry at Shop 4 15 Old Hume Highway Berrima.
The historic Bendooley Estate Book Barn has a great range of books, a cellar door, a restaurant, accommodations and can hold weddings and special events.
Where To Eat in Berrima
Visit the Surveyor General Inn the oldest continuously licensed pub in Australia built in 1834.
Eschalot Restaurant at 24 Old Hume Highway is known for its paddock-to-plate menu working with local food producers to bring you an inspiring Australian menu.
Dine at Bendooley's Estate Book Barn inside by the open fire or alfresco! "Savour flavoursome cuisine inspired by the seasons of the Southern Highlands." Head to the Cellar Door for tastings from 10 am daily.
Where To Stay in Berrima
The place to stay is Bendooley Estate at 3020 Old Hume Highway Berrima. They offer a range of luxury cottages from studio to 3-bedroom cottages. Enjoy the Book Barn Restaurant and the Cellar Door whilst staying in the accommodations.
Things to do in Exeter
Exeter is a small village outside Moss Vale on the way to Bundanoon. The top 5 things to do in Exeter are:
Visit the Exeter General Store for great coffee and food, secondhand books and general post office items.
Visit the heritage-listed Exeter Railway Station built in 1878.
Visit the Celtic Scottish designed Church of St Aidans built in 1895.
On Mondays, Tuesdays, Fridays and Sundays watch the locals play croquet in the centre of the village.
Shop for antiques at the Village Pump Antiques Store.
Where To Stay in Exeter
For a range of home-style accommodations in Exeter check out the latest deals here.
Things to do in Bundanoon
Bundanoon is full of quaint cafes and tearooms. There are walks and cycle paths to enjoy in the Morton National Park. In April of each year the Scottish Highland Gathering "Brigadoon" takes place. If you plan to visit at this time make your hotel bookings well in advance.
Visit Fairy Bower Falls in the Morton National Park. It is not an easy walk and will take you around 1 hour.
Erith Coal Mine Walk – 2.5 km in length can take up to one hour
Take the Stonemason's Trail from Bundanoon. Ken McDonald has created solid pieces of local flora and fauna. You can download the trail here.
You can start the trail from Bundanoon or the Wingello Village Store. There are 8 images to be seen.
Where To Eat in Bundanoon
Bundanoon Hotel – a classic Australian Pub built in 1922. Located at 6 Erith Street Bundanoon and offers accommodation.
For Italian cuisine, you can't go past Bottega B Ristorante at 37 Railway Avenue. Open from 5 pm Wednesday to Sunday.
Open daily from 7 am to 5 pm is the popular Potters Pantry offering classic fare with a twist. You must stop for Brunch! Their specialty! Address: 27 Railway Avenue Bundanoon
Where To Stay in Bundanoon
The 3-star Bundanoon Hotel has recently been refurbished and offers accommodation from twin rooms, double rooms, Queen-sized rooms, and family rooms some with shared bathrooms.
The Bundanoon Guest House at 101 Railway Avenue offers country-style guest accommodation from twin, Queen and King rooms to a 2-bedroom cottage.
Things To Do in Robertson
Robertson is the top producer of potatoes in NSW and is the home of the Big Potato which measures 10 metres long and 4 metres wide. There is even a yearly Potato Festival held in April.
If you have watched the movie Babe it was filmed in Robertson.
10 minutes from Robertson is the Illawarra Fly.
The Illawarra Fly Treetop Walk is nestled in a treetop canopy 30 metres above ground and is one of only four steel walkway canopies in the world
Take a relaxed 1.5km walk through a beautiful warm temperate rainforest on 500 metres of steel walkway
The walkway culminates in Knights Tower, a spiral tower that rises to a breathtaking 45 metres above the forest floor
Suitable for all ages and fitness levels
Check availability and book here
Visit Belmore Falls – it is a Grade 3 walk 1.8 km in length and should take around 30 minutes to an hour.
Visit Fitzroy Falls – at 1301 Nowra Road Fitzroy Falls. Open 9 am to 4 pm closed on Christmas Day.
National Park fees apply. It is a short walk from the Visitor Centre to see the 80-metre cascading waterfall to the valley below. The visitor centre has a wealth of information and includes insights into the Aboriginal history of the region with Aboriginal Cultural walks.
Stroll the wheelchair-friendly Rainforest Walking Track at South Street Robertson. A grade 1 walk that will take 15 – 30 minutes to complete the 0.6km loop. Take your binoculars and spot several species of birds and you may even encounter a wombat or two.
Visit the Robertson Cheese Factory which has a collection of independent stores. A Cafe and Dairy Store – Mumma's Country Kitchen, Florist and Nursery – Petals & Paddocks, Country Emporium for gifts and Bliss in a Box for confectionary.
Address: 107 Hoddle Street Robertson
Where To Eat in Robertson
The Robertson Cheese Factory – visit Mumma's Country Kitchen
Robertson Pie Shop – open weekdays from 7 am to 5 pm and weekends/public holidays froom 8 am to 6 pm. Address: 4400 Illawarra Highway Robertson
The Robertson Hotel Dining Room at The Robertson Hotel. Open Thursday to Saturday evenings in the hotel's White Room. The Robertson Café is open from 10am – 3pm Friday & Saturday offering an extensive brunch and lunch menu as well as delicious selection of house-made cakes and pastries, while on Sunday our cafe offers our Spring BBQ lunch menu.
Address: 1 Fountaindale Road Robertson
Pizzas in the Mist at 42 Hoddle Street Robertson Open from Tuesday to Saturday from 5.30 pm
Moonacres Kitchen at 79 Hoddle Street Robertson using fresh produce from their own farm and produce from local Southern Highalnds suppliers.
Where To Stay in Robertson
Robertson Hotel located at 4575 Illawrra Highway Robertson. The 3 star hotel has a seasonal outdoor swimming pool, on-site bar and restaurant.
Greengate Bed and Breakfast at 22 May Street Robertson offers 2 ensuited rooms with a fully cooked breakfast each morning. It is set in 2 acres of gardens with stunning views over East Kangaloon.
More Things To Do in the Southern Highlands
Southern Highlands Wine Trail
Starting just outside Mittagong in the town of Braemar and finishing in the town of Sutton Forest just outside Moss Vale.
Tractorless Vineyard and Bowral Brewing.
Address: 3/11/Pikkat Drive Braemar.
Open Monday and Thursday 10 am to 4.30 pm, Tuesday and Wednesday by appointment. Friday and Saturday 10 am to 10 pm Sunday 11 am to 3 pm
Address: 46 Sir Charles Moses Lane Mittagong
Open: Wednesday to Friday 10 am to 4pm. Weekends and public holidays from 10 am to 5 pm
Lot 5 Kells Creek Road Mittagong
Open: 7 days from 10 am to 5 pm
252 Centennial Road Bowral
Open 7 days from 10 am to 5 pm
3020 Old Hume Highway Berrima
Open 7 days from 10 am to 4.30 pm
110 Joadja Road Berrima
Open weekends from 10 am to 5 pm and Thursday Friday and Monday from 12 pm to 5 pm
13 Market Place Berrima
Open Thursday to Monday 10.30 am to 4.30 pm
Cnr Oldbury Road & Illawarra Highway Sutton Forest
Open Thursday to Tuesday from 10.30 am to 4.30 pm
128 Nora Road Moss Vale
Open Thursday to Sunday and public holidays from 11 am to 5 pm
12324 Hume Highway Sutton Forest
Open 7 days from 10 am to 5 pm
12587 Hume Highway Sutton Forest
Open Monday to Sunday from 8 am to 4 pm
238 Old Argyle Road Exeter
Open Thursday to Monday from 10.30 am to 4.30 pm
257 Sallys Corner Road Exeter
Open weekends and public holidays from 10.30 am to 4.30 pm
Cuttaway Hill Wines
212 SallysCorner Road Exeter
Open Monday, Thursday and Friday 12 pm to 4 pm, Saturday and Sunday from 10.30 am to 4.30 pm
21 Blackhorse Lane Sutton Forest
Open Friday to Sunday 9 am to 5 pm
Other Gems To Visit in the Southern Highlands
Burrawang Hotel in Burrawang just outside Robertson with its large beer gardens and extensive views – 14 Hoddle Street Burrawang
Burrawang General Store 11 Hoddle Street Burrawang for casual dining
The Everything Store in Sutton Forest selling everything from antiques to Akruba hats. Address: 7404 Illawarra Highway Sutton Forest
Visit the Joadja Distillery at 1760 Joadja Road Joadja. Open Tuesday to Sunday from 10 am to 5 pm for sales and tastings of their whiskey and gin.
Weather in the Southern Highlands
Summer – average temperatures range from 13 – 25 deg C
Autumn – average temperatures range from 8 – 19 deg C
Winter – average temperatures range from 3 – 12 deg C
Spring – average temperatures range from 8 – 19 deg C
Events in the Southern Highlands
Summer – wine harvest festival
Autumn – Berrima International Horse Trials, Robertson Show, Moss Vale Show, Brigadoon
Winter – Pie Time (check out full details here www.pietime.com.au) , Truffle Season, Christmas in July
Spring – Tulip Time, Bong Bong Picnic Races
How To Get To The Southern Highlands
Wondering how to get to Bowral from Sydney? By car from the Sydney CBD you take the M5 that connects with Hume Highway/M31.
Can you visit the Southern Highlands without a car? Yes, you can take the T8 train from St James Station or Central to Campbelltown. Take the SLH train to Bowral, you can stop at Mittagong or Moss Vale.
The fastest way is the Southern Explorer train 631 – details here
Do you need to hire a car? Check out the latest deals here.
Travel Insurance
If you are considering taking out travel insurance check the latest prices here.
Are you on Pinterest? We are at Staycation Australia.  Why not follow us and save to your own board for your next travel inspiration?
Conclusion
We hope you have enjoyed our article on the Southern Highlands of NSW. You can visit the Southern Highlands on a day trip or you can use our suggestions to put together your own unique Southern Highlands itinerary.
Have you joined our private Australian Travel private Facebook Group yet? Join here so that you don't miss out on any Australian travel inspirations.
Check us out on Instagram and Youtube here.
For more getaways from Sydney check these destinations out: