Planning to visit Hobart? You are in for a treat! There are so many fun things to do in Hobart, just make sure you allow enough time!
Hobart has a laid-back vibe. The city is culturally rich and it is the 2nd oldest capital city in Australia, Sydney is the first. It is home to one of the most famous Saturday markets – the Salamanca Markets which showcases the best of Tasmania. In 1973 Hobart opened the first casino in Australia.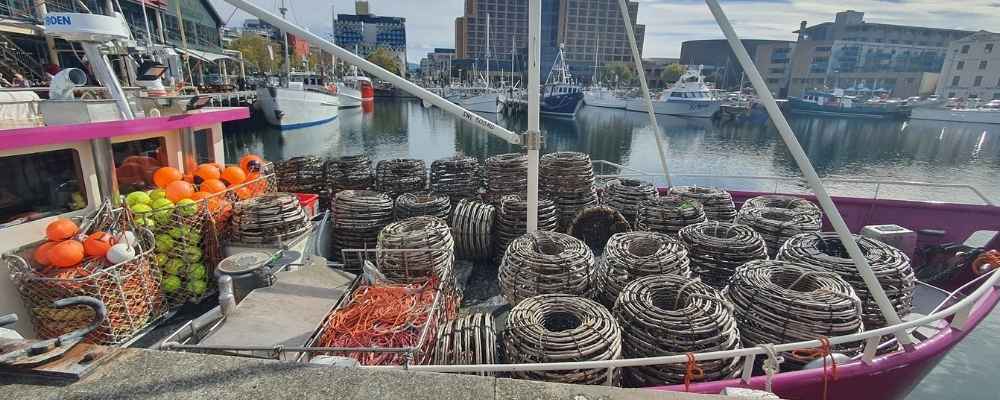 Hobart is positioned at the entrance of the Derwent River with the 1,270 m high kunanyi/ Mt Wellington as its impressive backdrop. Hobart is the capital of Tasmania an island which is located off the coast of mainland Australia.
Check out our Highlights of Hobart Youtube Video here: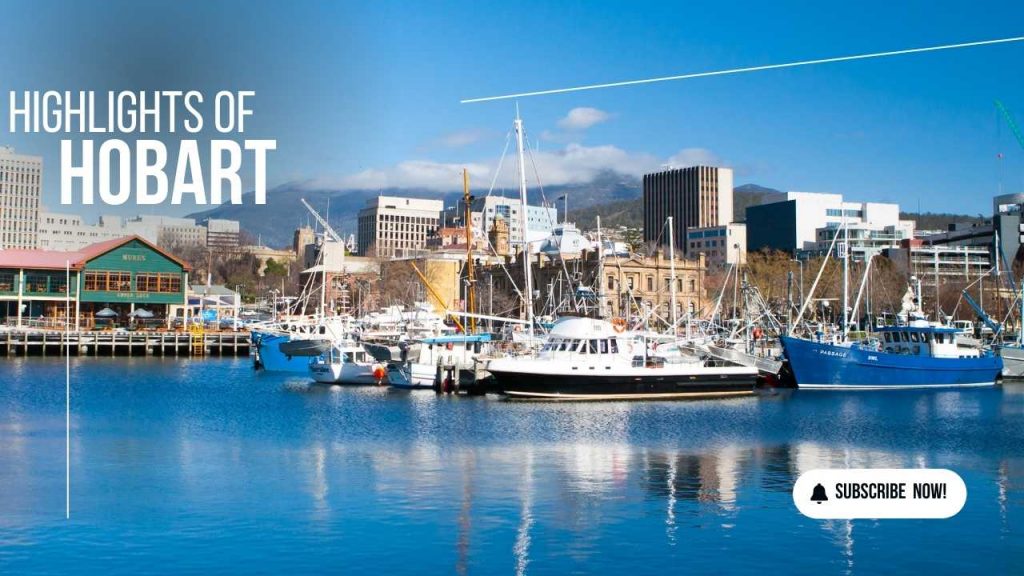 A Short History of Hobart
Hobart was founded in 1804 by Lt David Collins and was first used as a penal colony. The town was named after the Secretary of State for Wars and Colonies, Lord Robert Hobart.
In 1811 Governor Macquarie of NSW laid out the street grid for Hobart Town.
During the late 1830s and 1840s Hobart experienced a building boom with the construction of private dwellings, theatres, banks, a Synagogue and several churches.
Many of these early buildings have been restored.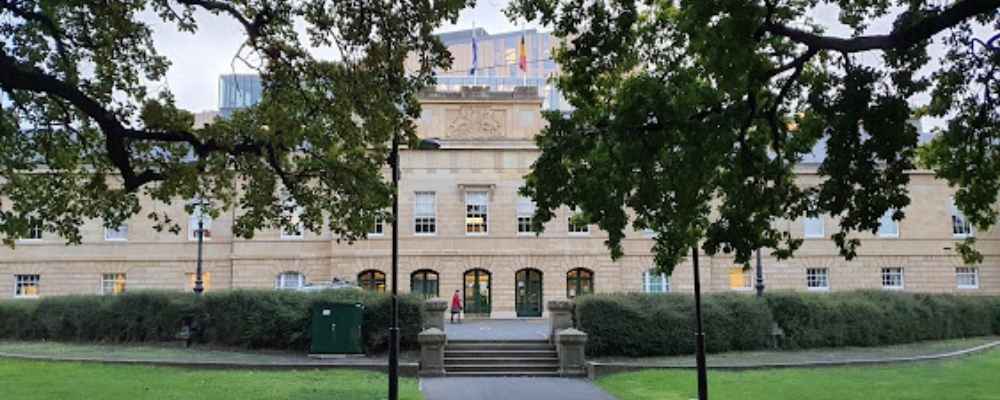 Old Penitentiary Historic Site (Campbell Street) – The Penitentiary Chapel still stands and is the home of the National Trust.
Parliament House (Davey Street) – built by convict labour between 1835 – 1840 it was originally the Customs House until 1856.
Customs House Hotel (1 Murray Street) was built in 1846.
The Old Court House (Murray Street)
St Joseph's Church (Macquarie Street) – the oldest surviving Roman Catholic Church in Hobart build in 1840 – 1841.
Tasmanian Museum and Art Gallery (Macquarie Street) – the main building was designed in 1861 and the site also has the Commissariat Store and the Private Secretary's cottage both built in 1809, the Bond Store built in 1824 and the Queen's warehouse in 1870.
Theatre Royal, the oldest theatre in Australia (Campbell Street) – opened in 1837.
The Synagogue (59 Argyle Street) was built in 1843 in the Regency Egyptian Revival style.
Temple House
Salamanca Place is one of Hobart's top attractions. Not only is it home to Saturday's Salamanca Market but it has some of the finest waterfront Georgian warehouses that were built during 1830 – 1860. Today the warehouses are restaurants and galleries.
Things to do in Hobart
There are so many places to visit in Hobart you could really allow 7 days and not rush it. We all have time constraints so we have broken this article down into 1, 2 and 3 days in Hobart. Out of the 3 different itineraries, you can pick and choose what interests you the most depending on the time you have available.
We will discuss in another article the top day trips from Hobart that you should consider if you can extend your time in Hobart.
One Day in Hobart – Option One
If you are short of time and only have one day to visit Hobart we would recommend exploring the city on the Hop on Hop off Bus.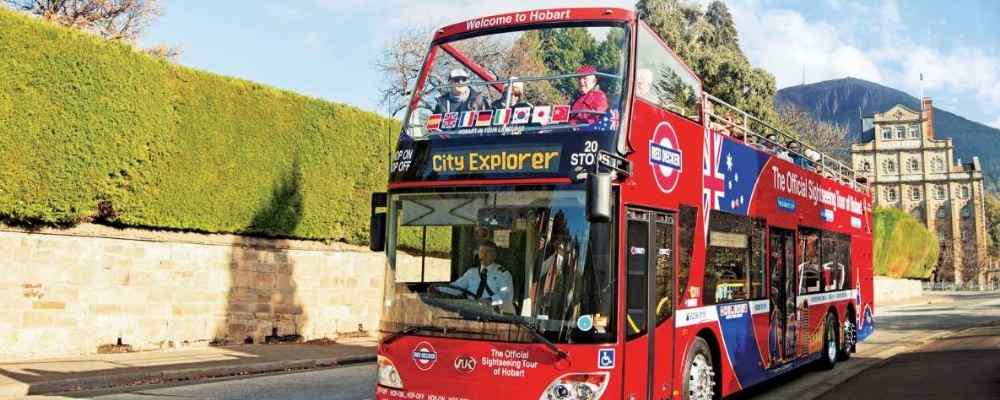 Duration is 90 minutes and has 20 stops.
Some of the major stops you could cover in one day in Hobart are:
Loop start – Travel centre Corner of Davey & Elizabeth Streets
Brooke Street Pier
Salamanca Place
Battery Point
Wrest Point Casino
Sandy Bay Village
Cascade Brewery
Female Factory
Tasmanian Museum and Art Gallery
Victoria Dock
Travel Centre return
The Summer timetable (October to April) starts at 09.00 am from the Travel Centre (last service at 3.00 pm and finishes at 4.30 pm)
The Winter timetable (May to September) starts at 10.00 am from the Travel Centre (last service at 3.00 pm and finishes at 4.30 pm).
One Day in Hobart – Option Two – Walks Around Hobart
Head to the Hobart Travel Centre at the Corner of Davey & Elizabeth Streets
They have a Walking Guide Through The City Centre – discover Hobarts Historic Places (free guide). The guide has 51 places to visit with a map!
You can also ask for their Engineering Heritage Walk guide that covers 13 buildings around Sullivans Cove, highlighting early engineering projects, buildings and machinery that are part of Tasmania's heritage.
If you are interested in visiting Battery Point, the Hobart Travel Centre also sells a booklet for $2.00 called "In Bobby's footsteps" – this is a historical walk through Battery Point. It is a walk that takes you behind the scenes showing how people lived from the time of colonial settlement. Duration: 1.5 hours
There is also a Women's History Walk "In Her Stride" – brochure is available from the Hobart Travel centre. The walk reflects women's experiences over time, some sites exist as they were, some have been pulled down and built over and others can be seen behind modern facades.
If you would prefer a 3-hour Sightseeing City Tour by Tram:
Enjoy a tour of Hobart's highlights:
Discover the history of Hobart
Experience Hobart's culture in Salamanca Place,
Battery Point, and other interesting districts
Observe the spectacular city views and nature views
Visit the Cascade Gardens and the Female Factory
See St. David's Cathedral, the Treasury Building, Franklin Square, GPO, Hobart Town Hall, and the Penitentiary Chapel and Court
Visit Hobart Aquatic Centre, Queen's Domain, and Government House
Head to the Royal Tasmanian Botanical Gardens
Tour description:
Starting from Murray Street Pier, the cruise heads south to Battery Point and Sandy Bay, passing by the oldest casino in Australia.
You'll then cruise across the Derwent River to the Eastern Shore, Bellerive, and Kangaroo Bluff, before travelling under the Tasman Bridge.
You'll head back via the Royal Botanic Garden and Government House.
The boat trip will take about 1.5 hours, with the captain providing an interesting live commentary to tell you what to look out for.
Onboard, you'll enjoy a one-course meal. Choose from steak, crumbed fish, chicken schnitzel or a veggie patty.
2 Days in Hobart – Option One
The Hop on Hop off Bus has a 48-hour pass. Visiting 20 stops, same route as the 24-hour pass but where you can slow your travel down and see more.
The full route is:
Travel Centre
Brooke Street Pier
Salamanca Place
Princes Park
Battery Point
St Georges Church
St Georges Terrace
Wrest Point Casino
Sandy Bay Village
Cascade Brewery
Female Factory
South Hobart Village
Village Cinema
Hobart CBD
Tasmanian Museum and Art Gallery
Maritime Museum
Hobart Convict Penitentiary
Aquatic Centre
Botanical Gardens
Victoria Dock
Travel Centre
Good to know: The Hop on Hop off Bus does not include visiting Mt Wellington
Hobart: Kunanyi/Mt Wellington Explorer Bus Pass
Enjoy a 2-hour return tour from Hobart to kunanyi/Mt Wellington, including 30 minutes on the summit
Experience spectacular views over the city of Hobart and southern Tasmania
Hop-on and hop-off at 5 bus stops in Wellington Park
Explore the growing network of bushwalking tracks and mountain bike trails throughout Wellington Park
Discover the easiest way to get to kunanyi/Mt Wellington
2 Days in Hobart – Option Two – All day tour
Must See in Hobart – MONA (The Museum of Old and New Art)
Opening hours: Thursday to Monday from 10.00 am to 6.00 pm
Enjoy a sightseeing tour of Hobart's highlights
Discover the history and culture of Hobart with a local guide on a converted coach tram
Visit the Cascade Brewery, Cascade Gardens and the Female Factory
Explore the Museum of Old and New Art (MONA) with entry ticket and ferry back to Hobart
MONA is an art museum in the Moorilla Winery which is located on the Berridale Peninsula. It is a privately funded museum that houses an art collection of over 1900 pieces that belong to David Walsh. MONA houses an outdoor festival in summer known as Mona Foma and in winter Dark Mofo with extensive public art exhibitions amid a fairground setting of food and drink, live music and entertainment.
3 Days in Hobart – more Hobart attractions to enjoy especially if you are there on a Saturday
If you are visiting Hobart on a Saturday head to the Salamanca Markets at Salamanca Place Hobart.
Opening hours: 08.30 am to 3.00 pm
Good to know: It is a very popular market so we recommend getting there as soon as it opens
You can shop for:
Whiskey, Gin, Lavender, Truffles, Arts, Crafts, Bread, Fudge, Botanicals, local produce, clothing, coffee, food, cider, flowers, ice cream, gemstones, hats, candles, candy, wine, jewellery and more in over 300 stalls.
One of the fun things to do in Hobart is to wander around Constitution Dock after visiting the Salamanca Markets.
Address: 1 Franklin Wharf Hobart
The Dock is home to Hobart's fishing fleet and also the finishing line for the Sydney Hobart Boxing Day Yacht Race from Sydney.
What to see and do at Constitution Dock:
See the Hobart Heritage Steam Crane built in 1899 and the 1935 drawbridge
Enjoy the freshest of local seafood at the many seafood stalls or waterfront restaurants
Shop at the galleries and craft shops in the many restored buildings
Visit the Tasmanian Museum and Art Gallery which houses exhibits on Tasmania's convict history, the history of Hobart, Tasmania's Aboriginal history, and Tasmania's animals including the extinct Tasmanian Tiger.
Visit the Maritime Museum – for Tasmania's nautical history, whaling, early settlers and more
Visit Mawson Place – where you can see Mawsons Huts Replicas Museum – Sir Douglas Mawson was Australia's greatest explorer to Antarctica.
More Hobart Activities to Include in your 3 Day itinerary as alternatives:
Sea to Summit 9 Hour Challenging Walk
Starting at Macquarie Wharf you wander through the harbour and city parks before joining the Hobart Rivulet train. Enjoy the Cascade Gardens, the walk then takes you past Australia's oldest brewery – Cascade Brewery. The Myrtle Gully Track takes you through tree ferns and the tallest flowering plant on earth – the mighty swamp gum. At Junction Cabin enjoy some of Tasmania's best produce before rock hopping the Dolerite Scree Fields where we have a break at the chalet. See the array of flowers along the Organ Pipes Track before heading up to the Alpine Plateau and the pinnacle of Kunanyi where you enjy a drink before heading back down.
Book Now
Wild Wellness Fire & Ice Walk
Tour description taken from website.
"Discover the wonders of kunanyi / Mt Wellington like never before. Listen to the stories of the mountain's history and unique plants and animals all in the care of knowledgeable local guides. Be coached through Wim Hof Method breathwork and icy river plunge (by Piet, trained by Wim Hof himself) followed by writer-led journaling beside a roaring fire and mountain stream.
The small group experience visits North West Bay River which collects its crystal waters from kunanyi's alpine plateau. We'll head off along the Cathedral Rock Track following the gurgling mountain river for about 2km. Once we've settled in on the river bank we'll have an extended break for our breathwork and cool river plunge (not compulsory but will ignite every sense!) After returning along the track fully refreshed, enjoy a gourmet burger lunch. It's a hearty Tasmanian affair with plump burgers and local flavours on the menu including East Coast cheeses and Pigeon Whole Bakery treats to keep you going."
Book Now
Under The Organ Pipes
The four hour walks take you through the gentle Organ Pipes track where you can enjoy sub-alpine flowers and views over Hobart and the Dolerite Cliffs before heading to the Springs for a snack and a hot drink.
Book Now
More Best Places in Hobart to Visit
If you are a chocolate lover head to Federation Artisan Chocolate.
The Federation Chocolate Factory at 3 Victoria Street Hobart is also a retail store and a cafe. They have an extensive range of pralines but we encourage you to taste their lavender range.
Opening hours: Monday to Friday 09.00 am to 5.00 pm, Saturday 9.00 am to 3.00 pm and Sunday 10.00 am to 3.00 pm
St Davids Park
Address: 16 Elizabeth Street Hobart
The park dates back to 1804 when it was used as the first burial ground in Tasmania. There is a memorial wall with the headstones from the cemetery of the first settlers and many from the first fleet. The park is a great spot for a picnic.
Hadleys Orient Hotel
Hadleys Hotel was built by convicts in 1834 and was originally known as the Golden Anchor Inn. Shortly after it was the Marquis of Waterford and then Web's Hotel in the 1850s. John Webb passed away in 1881 and J C Hadley purchased the hotel and changed the name to Hadley's Orient. Hadley's Orient Hotel has many famous guests and royalty over the years e.g. Dame Nellie Melba, explorer Dr Douglas Mawson, Duke of Penrieve, France, Sir William Don just to name a few.
St Davids Cathedral
Building started in 1868 of the Cathedral, the cloisters were added in 1929, the tower was completed in 1936 and the adjacent Deanery was added in 1886. The Cathedral is the seat of the Bishop of Tasmania.
Address: 23 Murray Street Hobart
.
3 Days in Hobart – Option 2
If you have already done the City Tram Sightseeing Tour but still want to visit MONA you can combine wine tasting and wine tour at Moorilla Estate and enjoy lunch at the Source Restaurant. After lunch, you can visit MONA.
Departure time: 09.15 am and arrive back at the Ferry terminal at 5.00 pm
Take a 3 Hour Self Guided Audio Tour
Tour Description:
"Download a vibrant MP3 self-guided audio tour combined with a fully detailed map of the area of your tour.
Immerse yourself in the eccentric seaside city of Hobart, Tasmania's capital city. In this audio tour, walk through the sunny city and enjoy the wonderful views of Mount Wellington in the distance. Here you will learn about its turbulent history at the Angelsea Barracks and Battery Point, before going on to enjoy the relaxing Franklin Square.
You will also see Salamanca Square, St David's Cathedral, the William Crowther Statue, the Royal Theatre, the Penitentiary Chapel, the Tasman Bridge, and the Hobart Cenotaph. There is also an optional addition to see the Cascades Female Factory if desired.
Where to Eat in Hobart
For the best fish & chips and other seafood dishes head to Flippers Seafood at Hobart's Waterfront
For happy hour our favourite was the Customs House Hotel at 1 Murray Street Hobart.
For the best pub food in Salamanca Place (tip: try the slider and the french fries) head to Jack Greene Bar at 49 Salamanca Place. Try the local craft beer too!
For a glass or two of Spirits whilst enjoying small plates of delicious snacks in a historical theme bar head to the Evolve Bar at MACq 01 Hotel, 18 Hunter Street, Hobart. Don't be surprised if you are enjoying you drink or two with a giant Russian bear.
For a sweet treat head to the best icecream in Hobart at the Van Diemens Land Creamery at Constitution Dock.
For a flight of Whiskey head to Lark Distillery at 14 Davey Street Hobart. Opening hours: 12.00 pm – 7.00 pm.
Getting To Tasmania
Tasmania has two airports – Hobart and Launceston and they are serviced by Jetstar, Qantas and Virgin.
Devonport is a regional airport serviced by Qantaslink as well as Burnie/Wynyard which is serviced by Rex Airlines.
For the latest airfare deals from your home departure point to Tasmania – click here
The Spirit of Tasmania has a nightly crossing from Melbourne to Devonport. There are daily sailings during Summer.
Airport Bus Services:
Pre-purchase your bus ticket from Hobart Airport to the City Centre and return here
Travelling Around Tasmania
Metro Tasmania operates services to Hobart, Launceston and Burnie. Timetable information is available here.
Car Rental:
You can book car rental on arrival at the airports in Tasmania and also in city centres. Car rental is very popular and at times cars will be in short supply and prices can be higher than on the mainland. We recommend booking well in advance.
Campervan Hire
If you would prefer to book a campervan instead of hotel accommodation click here for more details.
Travel Insurance
Travel insurance is highly recommended when you travel. Check prices here.
When to visit Tasmania
Average temperatures for Tasmania are:
Spring – average minimum low 7 high 17
Summer – average minimum low 12 high 23
Autumn – average minimum 9 high 19
Winter – average minimum 5 high 13
We visited in the month of April and it was chilly. We recommend wearing layers and taking a good warm jacket and boots. We took gloves but only used them leaving Launceston when it was 0 degrees. Out of 9 days we only had 1 day of rain!
Pinterest
If you enjoyed our article pin it to your board for future reference. You can join us at Pinterest here.
Conclusion
We hope you enjoyed our article on things to do in Hobart and our 1, 2 and 3 day Hobart itineraries. Let us know what your favourite Hobart tourist attractions were!
If you have more time in Tasmania you should consider a Port Arthur Day Tour, Bruny Island Day Tour and a self-drive East Coast road trip. Tasmania has so much to offer the traveller. Everyone who has visited the first time returns time and time again.
We have created a Staycation Australia private Facebook Group to assist you in planning your staycations in Australia.
Related reading: