Planning a visit to Orange in NSW? A great country destination in NSW to spend at least 3 nights, you will not be disappointed. If you are a wine lover their vineyards and cellar doors are some of the best in NSW. If it is local produce you are searching for you will have so much choice. If you are looking for top restaurants and cafes you have found the right place.
We share with you our 21 top things to do in Orange NSW after spending 4 delightful and exciting nights in this country town of NSW.
Check out our Youtube Video on the Highlights of Orange NSW below
This post may contain affiliate links. Please see our disclosure for more information.
Map of Orange NSW
Top 21 Things To Do in Orange NSW
#1 Visit Stockman's Ridge Wines for their Chocolate and Wine Pairing
What a find! This is the first time we had heard of chocolate being paired with wine, and as we all love chocolate and wine we headed to Stockmans Ridge for in-depth research.
We tested delicious milk chocolate, raspberry dark chocolate, chilli dark chocolate and crisp mint chocolate with a variety of Stockman's Ridge wines. The consensus among the four of us was this was a unique experience that we could enjoy over and over again. A firm favourite was the chilli dark chocolate followed by the crisp mint chocolate paired with their excellent wines. All the tastings were done outside in the warmth of the afternoon sun with stunning views of the vineyard.
Of course, our time at Stockman's Ridge did not end there. We continued our research inside to taste some of their other fine wines.
The setting is spectacular at Stockman's Ridge Wines. Check them out here for the many events they hold during the year.
Address: 21 Boree Lane Lidster 13.5 km from Orange via Cargo Road.
Wines available:
Sparkling Wine
Shiraz
Pinot Noir
Cabernet Franc
Primrose
Sauvignon Blanc
Savagnin
Chardonnay
Sweet White
Gruner Veltliner
Grazing boards and platters are available.
Cellar Door opening times: Open from Thursday to Tuesday. Tuesday and Thursday bookings are essential.
Sunday 11 am to 5 pm. Monday 12.00 pm to 5.00 pm. Friday 11 am to 5 pm and Saturday 11 am to 8 pm.
Accommodation is available on the property in their 3-bedroom Swagman Homestead. You can read Tripadvisor reviews here.
#2 Ross Hill Wines – Australia's only carbon-neutral winery and vineyards
Ross Hill Wines comes in as one of the best wineries in NSW that has worked hard to reduce its greenhouse gas emissions to zero. When you visit Ross Hill Wines you will know that you are playing your part in helping the environment.
Address: 134 Wallace Lane Orange NSW
Cellar Door Opening Times: Daily from 10.30 am to 4.30 pm. Bookings are essential. Click here to book
Wines to taste and purchase include:
Blanc de Blancs
Sauvignon Blanc
Chardonnay
Pinot Noir
Cabernet Franc
Cabernet Sauvignon
Shiraz
Merlot
Pinot Gris
Rose
Pinot Grigio
Riesling
Pinot Noir Rose
Tempranillo
and a very special Extra Virgin OIive Oil
Enjoy a range of master cooking classes, lunch and wine packages and events at the Ross Hill Wines School of Wine and Food. For more information click here.
#3 Visit Heifer Station for Great Wines and Farm Friends
Address: 1034 The Escort Way Borenore
Visiting by helicopter – call in advance as the helicopter pad is also part of the working cattle paddock
A great venue for all the family. A cosy cellar door with an open fire when it gets chilly, outside areas to enjoy during the rest of the year, farm yard fun for the children in the 'funny farm'. There are alpacas, goats, sheep, chickens, a mini shetland called Tilly and longhorn cattle.
You can book private picnics, a Vineside walking tour, roaming tasting & cheese platter, a 'get fireside' experience, and The Ultimate Wine Tasting, Heli Tour & Private Picnic Experience. Details here.
Wines available at Heifer Station are:
Chardonnay Pinot Noir
Pinot Gris
Chardonnay
Riesling
Rose
Pinot Noir
Merlot
Shiraz
#4 Visit Philip Shaw Winery
Address: 100 Shiralee Road Orange
Bookings are required for tastings. Open daily from 11 am to 5 pm. Book here.
A lovely garden setting perfect for weddings and special events.
Philip Shaw offers a variety of exceptional wines for tasting and purchase:
Cabernet Franc
Sparkling NV
Pinot Noir
Chardonnay
Sauvignon Blanc
Pinot Gris
Riesling
Saignee
Merlot
Shiraz
#5 Wine Tasting with stunning views at the Skybar – Borrodell Vineyards
Address: 298 Lake Canobolas Road Orange
Enjoy a range of excellent wines at one of Australia's highest vineyards on the extinct volcano of Mount Canobolas.
Tastings are available from Thursday to Monday from 11 m to 3 pm. 6 set wines for $20 pp or 3 wines of your choice for $12 for groups up to 6.
The Skybar is also open from 12 pm to 6 pm for glasses or bottles of wine to enjoy among friends for double vaccinated guests only staying in their 4 available accommodations.
Wines available are:
Riesling
Sauvignon Blanc
Gewürztraminer
Chardonnay
Pinot Noir
Pinot Meunier
Cherry Liqueur
Cherry Port
Heritage apple cider
Méthode Traditionnelle Sparkling wine
#6 Sparkling Masterclass with Vineyard Tour and 3 Course Lunch – Printhie Wines
Duration: 3 hours and 30 minutes
Includes:
A guided walking tour through the vineyards
Learn the process of making sparkling wines
A private tasting of the Swift Sparkling wines
A 3-course lunch with pairing wines at Printhie Dining
Location: Printhie Wines Cellar Door, 208 Nancarrow Lane, Nashdale
Meet at the Cellar Door
#7 Private Picnic Lunch Experience in Orange with Wine by Printhie Wines
Duration: 2 hours and 30 minutes
Includes:
A Printhie vineyard map is provided to show you the ideal spots for your picnic
A guided tasting of Printhie wines
A bottle of wine from your tasting is included in your picnic basket which contains sweet and savoury gourmet treats
Location: Printhie Wines Cellar Door, 208 Nancarrow Lane, Nashdale
Meet at the Cellar Door
#8 1 Hour Trike Tour for 2 in Mount and Lake Canobolas
Duration: 1 hour
Includes:
Cruise around visiting historic landmarks of Orange
Stop at the summit of Mount Canobolas
Ride around Lake Canobolas and Towac Valley
Hotel pickup is offered
#9 Private Orange Trike Wine Tasting Tour
Duration: 3 hours and 30 minutes
Includes:
Wine tasting at Colmar Estate
Wine tasting at Mortimer Wines
Wine tasting at Ross Hill Wines
Cheese platter
Pick up from accommodation in Orange
#10 Picnic Hamper at Rowlee Wines
Looking for fun things to do in Orange NSW? How about enjoying a picnic amongst the vines with family or friends?
Duration: 2 hours
Includes:
Suitable for 2 – 4 persons
A selection of local and imported cheeses
Fresh charcuterie from a local artisan deli
Locally made dip from Fresh Fodder
Marinated olives – Fresh bread and crackers (GF option available)
A bottle of wine from our 'Rowlee' range
Biodegradable plates, cutlery and napkins
Water
Location: Rowlee Wines, 19 Lake Canobolas Rd, Nashdale
Collect your Picnic Hamper from the Rowlee Cellar Door.
#11 Half Day Foodie Tour Orange NSW
Duration: 4 hours
Includes:
Visit a number of local Orange food suppliers
Buy direct from local growers' farm gates
A fridge is carried on board to keep your purchases fresh
Pick-up is available from:
155 Byng St, Orange
Outside the Orange Visitors Centre
Hotel pickup is offered from selected hotels
#12 Visit the Historic Town of Millthorpe
Millthorpe is a heritage-listed village and is one of the top Orange attractions to visit.
Dine at the chef-hatted restaurant Tonic on the Corner of Pym and Victoria Street Millthorpe. Opening times: For dinner from Thursday to Saturday and for lunch on Sunday. Bookings are essential.
Read the latest Tripadvisor reviews here
You can visit local wineries:
Angullong Wines
Tamburlaine Organic Wines
Slow Wine Co.
You can visit the Golden Memories Museum which houses colonial and indigenous history.
Take a heritage walk through Millthorpe Village – more information here
In November take a tour of the local gardens and enjoy markets on the Millthorpe Garden Rumble.
For more yearly events click here
Good to know: Some places to visit in Millthorpe are not open on Monday – the village comes to life on the weekend. Plan your visit for later in the week.
Getting to Millthorpe
From Orange Millthorpe is a 20 minutes drive
From Orange Airport Millthorpe is 10 minutes drive
Bathurst to Millthorpe – 30 minutes drive
The intercity train from Sydney stops at Millthorpe
#13 Take a scenic walk around Lake Canobolas
One of the top places to visit in Orange NSW is Lake Canobolas.
Enjoy the walking trail around the lake where you can see native birds and wildllife. You can cycle around the lake as well. Depending on the season you can sail, swim or canoe.
Address: 87 Lake Canobolas Road Nashdale
Opening Hours: From early morning to sunset
#14 Enjoy Brunch at the Lakeside Cafe Lake Canobolas
After a walk around the Lake head to the Lakeside Cafe for breakfast, brunch or lunch. We have voted this as the one of the best cafes in Orange NSW for its scenic location and the best of local produce in some of the best dishes.
Opening hours: Tuesday to Sunday 8.00 am to 3.00 pm
Breakfast is between 8.00 am and 11.30 am and Lunch from 12.00 to 2.30 pm. Closed Mondays
For more details and menus click here
Read the latest Tripadvisor reviews here
#15 Head to the Hotel Canobolas for lunch or dinner
Looking for one of the best pubs in Orange NSW? We dined at the Hotel Canobolas for lunch and dinner during our stay. The servce was excellent and they had a great menu and wine list. Enjoy sitting in the courtyard if the weather is good and you are lucky enough to get a table, it is very popular!
#16 Dine and Shop for local produce at the Agrestic Grocer
With their chefs using the best of local produce, the Agrestic Grocer has an exciting menu for all. Need some local fruit and vegetables, beer soap, hampers, eggs or wine – the Agrestic Grocer is your one-stop shop for locally produced goods.
Address: 426 Molong Road Orange
Grocer Opening Hours: Monday to Sunday 08.30 am to 4.00 pm
Cafe: Wednesday to Sunday 8.30 am to 3.00 pm Tuesday 8.30 am to 3.30 pm
#17 Fancy a sweet pastry head to Racine Bakery
Address: 166B Summer Street Orange
Expect to queue for some of the best organic sourdough bread, artisan bread, real butter pastries, pies and sausage rolls, yummy cakes and biscuits.
#18 Best Coffee in Orange NSW – Byng St Cafe
For the best coffee in Orange head to Byng St Cafe. A popular cafe for locals and visitors – a favourite of ours is the custard tarts. We had to go back for seconds.
#19 Whiskey tasting at Washington's Whiskey Bar
If you are a whiskey lover head to Washington & Co Whiskey Bar for a pre-dinner tipple. So much choice of whiskey and bourbon from around the world and for non whiskey drinkers a selection of local wines are available.
Address: 243 Summer Street Orange
Opening Hours: Wednesday to Sunday from 5 pm to Midnight.
#20 – Dine at Sister's Rock Restaurant – Food and Wine Pairing
One of the best restaurants in Orange NSW is Sister's Rock located at the Borrodell Vineyard. Showcasing the best of Orange's local produce on the 3 course menu for $90 pp or 4 course menu for $105.
Enjoy incredible views over Towac Valley towards Orange whilst you enjoy a beautiful dining experience.
Address: 298 Lake Canobolas Road Orange
Opening Hours: Thursday, Friday, Saturday, Monday – Long lunches 12.00pm – last booking 3pm.
Sunday – Long lunches 12pm – last booking 4pm.
#21 Spend a few nights at the 3 Bedroom Chardonnay Cottage at Borrodell Vineyard
Looking for accommodation in Orange in a vineyard? We spent a wonderful 4 nights staying at the 3 bedroom Chardonnay Cottage on the Borrodell Vineyard Estate. The Cottage had all that we needed, with stunning views, fully equipped kitchen, verandah and visits from a local kangaroo family at sunset.
You can read our review here of our stay.
Hotels in Orange
Wondering where to stay in Orange? Check out this accommodation in Orange here.
Getting To Orange
Orange Airport is a 15 minute drive from Orange.
Qantas and Rex Airlines fly to Orange from Sydney. Flight time is about 48 minutes.
For the latest schedules and flight deals click here for more information.
Need to hire a car on arrival? Check out the latest deals here.
Maybe you are considering hiring a campervan – check out our partner Jucy's latest deals here.
Need to take out travel insurance? Check the latest policy details here and obtain a quote.
Join our private Facebook Group here – Australia Travel Planning Staycation Australia for more travel inspirations around Australia.
Best Time to Visit Orange
For spectacular autumn hues visit in March and April. Orange is known as Australia's Colour City for its autumn colours.
Summers are warm and Winter is cool to cold and you can expect snow at times. There is nothing better though than wine tasting with an open fire and a glass of a good Orange red.
Pinterest
You can now add our articles to your Pinterest Boards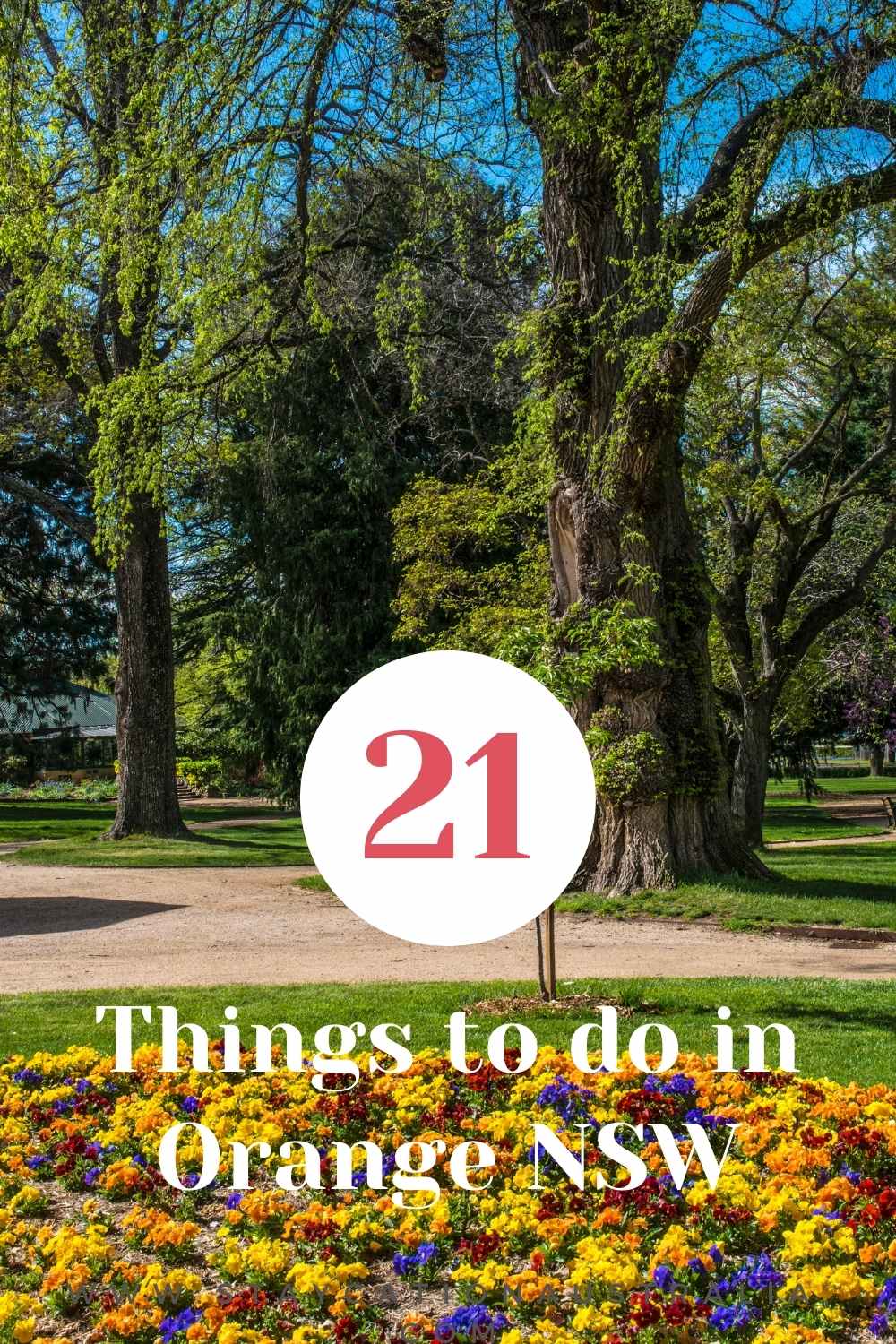 Conclusion:
We hope you have enjoyed our article on Orange's attractions and the best places to eat in Orange plus a range of top wineries in Orange to visit. As you can see it is a fun-filled destination for all to enjoy. Feel free to share our article with family and friends. If you have visited Orange we would love to hear from you – just drop your best places in Orange to visit below in the comments.
You may enjoy these NSW travel articles:
Best Wineries in the Hunter Valley