Whether it is a 2-night getaway or a 3-night getaway from Sydney we have you covered in our round-up of the best weekend getaways from Sydney in under 2 hours.
Our suggestions are suitable for families, couples or a group of friends heading off for fun getaways close to Sydney.
Travel tip: If you are leaving on a Friday night after 3 pm allow some extra time as roads heading out from Sydney are usually congested and if it is a public holiday long weekend the best time to leave is Friday morning.
This post may contain affiliate links. Please see our disclosure for more information.
Best Weekend Trips from Sydney Under 2 Hours
Avoca Beach – 1 hour 30 minutes
Blue Mountains – 1 hour 40 minutes
Kiama – 1 hour 50 minutes
Palm Beach – 1 hour 20 minutes
Wollongong – 1 hour 30 minutes
Planning more travel around Australia and want some travel inspiration join our private Facebook Group – Staycation Australia Travel Planning here.
Weekend Roadtrips from Sydney
Avoca Beach
How to get to Avoca Beach by Car?
Avoca Beach is only 1.5 hours from Sydney by car. Head north on the Pacific Highway from Sydney and join the F3 Freeway (Route #1). There are two exits available: 1) Central Coast Highway Gosford, Woy Woy, Terrigal or Wyong Road (Wyong, The Entrance, Yarramalong). You can rent a car from Sydney or Newcastle.
How do you get to Avoca Beach by train?
There are trains available from Central to the Central Coast. The train station is Gosford which is 16.7 km away from the centre of Avoca Beach with an average driving time of 22 minutes. For details on the bus service from Gosford Train Station to Avoca Beach click here.
What is the nearest airport to Avoca Beach?
Newcastle Airport is 116km from Avoca Beach with an average driving time of 1 hour 35 minutes.
Sydney Airport is 112.8 km from Avoca Beach with an average driving time of 1 hour 30 minutes.
Top Things To Do in Avoca Beach
Avoca Beach is enclosed by two headlands giving sun-worshippers a secluded beach to swim and surf.
If you love to kayak or want to try your hand at stand-up paddle boarding see the team at Aquafun Avoca Lake.
The Central Coast Surf Academy runs surfing lessons for everyone.
Take a diving tour to the artificial reef created by Ex-HMAS Adelaide.
If you are in Avoca Beach on the 4th Sunday of the month head to the Avoca Beachside Markets at Avoca Drive Heazlett Park Foreshore Avoca Beach.
Accommodation in Avoca Beach
There is a range of accommodations in Avoca Beach from luxury serviced apartments, hotels, glamping and holiday homes. Our favourite is the Avoca Palms Resort which is centrally located to the beach and the many great restaurants around Avoca Beach. There are 3 and 4-bedroom apartments available with balconies with views over the lake or the beach. With facilities such as a BBQ area, heated pool and spa it makes for a perfect long weekend getaway from Sydney.
Check availability here for the Avoca Palms Resort
For More Accommodation Options in Avoca
Where To Eat in Avoca Beach
For Brunch in Avoca Beach, we love the Point Cafe.
For that sunset drink or casual dinner the Sunsets Bistro on the first floor of the Surf Club is the place to go.
For more of an upmarket dining experience we love the Avoca Beach House.
When Is The Best Time To Visit Avoca Beach
March, April, May, September, October, November and December are the best times to visit Avoca Beach where temperatures hover between 20 and 26 degrees C. Our visits are usually in March or May.
The Blue Mountains
How to get to the Blue Mountains by Car from Sydney
There are two ways to travel by car to the Blue Mountains The first is from Sydney on the M4. The M4 is a toll road and should take you around 1 hour – 1.5 hours.
The second is to go via Windsor on the Bells Line of Road. This journey should take you around 2 hours depending on your destination in the Blue Mountains.
How to get to the Blue Mountains by Train from Sydney
Trains to Katoomba from Central Station take 2 hours and depart every hour. You will need an Opal Card.
How To Get Around The Blue Mountains If You Don't Have A Car
When you arrive at Katoomba Railway Station there is the Hop on Hop off Bus that offers a package that includes the Blue Mountains Explorer Bus and the Unlimited Discovery Pass for Scenic World with the skyway, railway, and walkway.
Enjoy skip-the-line access to Scenic World and enjoy unlimited rides all-day
Take in the beautiful sights and jump on and off as much as you want around the Blue Mountains and Katoomba
Board the scenic railway with stunning views of the landscape
Explore the beautiful rainforest areas
You can read our full travel guide to the Blue Mountains Attractions here
Top Attractions of the Blue Mountains
Visit the Three Sisters which are located close to the town of Katoomba.
Visit the Katoomba Falls which is located close to Echo Point and easily accessible by all.
Visit Scenic World:
Admire views of the World Heritage-listed Blue Mountains from the Skyway
Ride the world's steepest railway into the dense rainforest
Admire an abundance of native flora and fauna
Walk through the rainforest along elevated boardwalks
Fun day out with the family in the Blue Mountains
Includes access to Skyway, Railway, Walkway and Cableway
You can purchase your pass here
Visit Bilpin Cider
Bilpin Cider is located at 2369 Bells Line of Road in Bilpin. Their refreshing local cider is available in alcoholic and non-alcoholic beverages. Bilpin Cider is located on 10 acres with great views, enjoy a ; picnic or order a cheese platter available on certain days of the week.
Wander Leura Village, Katoomba and Blackheath.
Enjoy wine-tasting in the Megalong Valley
Enjoy tastings at boutique wineries – Dryridge Estate & Megalong Creek Estate
Marvel at spectacular views of the immense sandstone escarpments
Sip and savour without the hassle of driving
Blue Mountains Stargazing Tour
Spend a fun evening learning about Australia's Southern Skies and its celestial wonders. Suitable for all ages. Learn how to identify all the stars and planets and listen to interesting stories about our Southern Hemisphere sky.
Book Now
Where To Eat in The Blue Mountains
For a quick lunchtime bite to eat our favourite place is Sublime Pizza at 187a Leura Mall in Leura.
For dinner we love Leura Garage and Polar Bear both in Leura. Bookings are required in advance for both.
Where To Stay in the Blue Mountains
There are so many options to stay in the Blue Mountains from bed and breakfasts, small hotels, apartments, cabins and cottages to luxury stays at resorts.
Our favourite 4-star hotel stay is at the Fairmont Resort.
The Fairmont Resort is a great venue for family stays with many facilities for children.
Book here for the Fairmont Resort
For more accommodation options in the Blue Mountains:
When is the Best Time To Visit The Blue Mountains
Spring and Autumn are the best times to visit the Blue Mountains, it is less touristy and the weather is mild. July is a popular time to visit when a lot of the venues celebrate Christmas in July.
Kiama
How To Get To Kiama by Car
From Sydney, you join the Princes Highway and head to Kiama. The Sublime Point Lookout along the way is perfect to get that scenic photo of the South Coast of NSW.
There is a scenic drive which is called the Grand Pacific Drive. You start the drive at the Royal National Park, it is 140 km in length. The distance to Kiama is 131 km and can take up to 2.30 hours at peak times.
For the latest car rental deals click here
How to Get To Kiama By Train From Sydney
For travel by train to Kiama from Sydney click here. The average journey time takes around 2.15 hours from Central Station. You will need an Opal card.
Top Things to Do in Kiama
The popular attraction in Kiama is the blowhole which is the largest in the world. If there is a southeast swell at times the plumes of water can reach up to 30 metres. The blowhole is easily reached from the town about 1.1 km.
Surf at Kiama's Main beach
Walk the Kiama Coastal Walk – the length is 20 km but can be broken up into 3 separate walks
On Wednesdays visit the Kiama Farmers Market at Coronation Park near Surf Beach. Opening times: 3 pm-6 pm during daylight savings and 2 pm-5 pm during non-daylight savings time.
If you love Jazz you will love Kiama's 3-day Jazz Festival held in March each
year.
Where To Stay In Kiama
There is a variety of accommodation available in Kiama to suit all budgets.
Where to Eat in Kiama
One of our favourite places in Kiama to eat is the Hungry Monkey at 32 Collins Street.
For an excellent Australian fare menu and the best gourmet pizzas in Kiama we recommend Olive & Vine at 87 Manning Street Kiama. Open from Tuesday to Saturday from 5.30 pm to 9 pm.
When Is The Best Time To Vist Kiama
The best time to visit Kiama is Spring, Summer and Autumn.
Palm Beach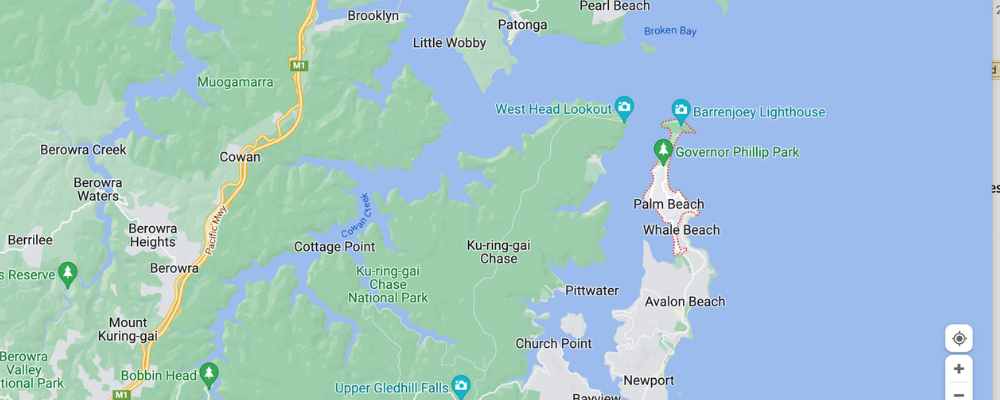 How To Get To Palm Beach by Car
From Sydney, you head to the A8 that takes you along the Northern Beaches to Palm Beach. The average journey time is 1 hour and 20 minutes.
Along the way, you can spend time visiting the 20 beaches on the Northern Beaches. Some great spots for lunch are on the Strand at Dee Why Beach and in the villages of Avalon or Newport.
Do you need to rent a car? Check here for the latest deals.
Travel Tip: There are no train services to Palm Beach
How Do You Get To Palm Beach By Bus
The L90 Bus
Route L90 will operate every 60 minutes from 9 am to 3 pm and on weekends from 7 am to 10 pm. To travel outside of these times, catch the 199 bus and connect with the B Line that runs from Wynyard to Mona Vale and return.
The 199 also runs from Manly to Palm Beach, so you could catch the ferry from Circular Quay to Manly to connect.
Top Things to Do in Palm Beach
Hike up the Barrenjoey Lighthouse. There is a paid car park close to the Boathouse. The hike should take you around 15 – 20 minutes. Once there, enjoy the stunning 360-degree views over Palm Beach and up to the Central Coast.
There is a Home and Away Tour available:
Benefit from an expertly guided tour of Summer Bay and the surrounding area
Make the most of a visit to spots you've always seen on TV
Have a good chance of seeing filming and maybe meeting cast members (Mon and Tue)
Meet a special guest from "Home and Away" on with the Meet and Greet option
Catch the Palm Beach Ferry To Ettalong and Wagstaffe – sailing times are here
Head to the Basin Campground for some fun activities in the water.
Stand Up Paddle Board Safari
Enjoy a one-hour guided safari around the Ku-Ring-Gai National Park and then enjoy your own self-guided tour for one hour experiencing the calm waters and local wildlife.
Book Now
Stand Up Paddle Board Rentals
Stand-up paddle board rentals to experience the beauty of the Ku-Ring-Gai National Park.
Book Now
Single Kayak Rentals
From 1 hour rental on the calming waters surrounding the Ku-Ring-Gai National Park.
Book Now
Double Kayak Rentals
From 1 hour double kayak rentals around the waters surrounding the Ku-Ring-Gai National Park.
Book Now
Where To Stay in Palm Beach
Wollongong
Map of Wollongong
How to get to Wollongong By Car
The fastest route from Sydney is to travel via the Princes Highway/A1 and M1. Driving time 1 hour 30 minutes. Stop off at the Sublime Lookout for views over the South Coast.
There is the tourist drive option as well which is longer from Sydney to Wollongong. This is known as the Grand Pacific Drive and the highlight apart from the stunning coastal views is travelling over the iconic Sea Cliff Bridge. The estimated travel time is 2 hours. There is a lot to see along the way.
How to get to Wollongong by Train
The train journey from Sydney to Wollongong takes 1 hour and 50 minutes on the South Coast line. Click here for the schedule.
Wollongong Station is around a 20-minute walk to the CBD. You can take a taxi or there is a free shuttle bus that does a loop for more details click here.
What is the nearest airport to Wollongong?
Shellharbour Airport is 20 minutes south of Wollongong. Link Airways has flights from Shellharbour to Brisbane and Melbourne.
Sydney's Kingsford Smith Airport is 60 km away and Canberra Airport is 184 km away.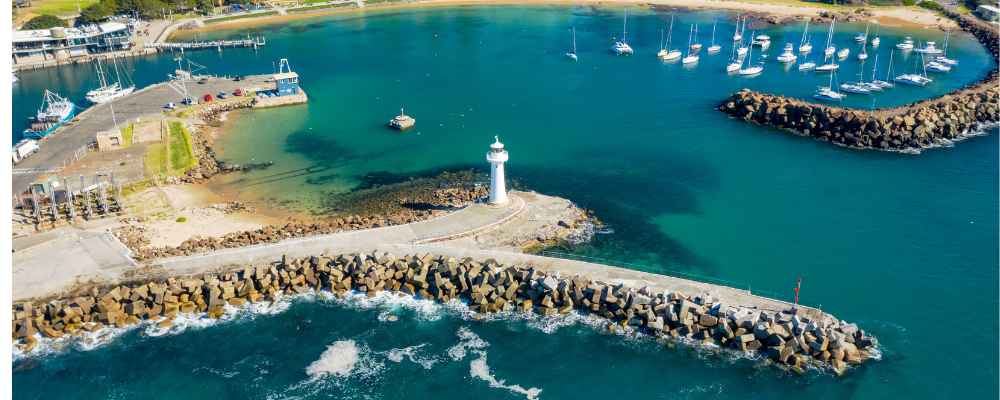 Top Things to do in Wollongong
There are some top things to do in Wollongong on your visit.
The top 4 things to do in Wollongong are:
Visit the city beaches and lighthouse
Visit the Nan Tien Temple – the Buddhist Temple located in Berkeley
Visit the Wollongong Botanic Gardens at Murphys Road Keiraville
Where to Stay in Wollongong
We can highly recommend a stay at Hotel TOTTO centrally located in the CBD at 60 Market Street Wollongong. The location is perfect, just a few minutes walk to the Central Mall and ten minutes walk to the beaches of Wollongong.
There are 150 rooms made up of king, queen, twin and accessible rooms with car parking on-site for 100 cars.
I love the interior design of the rooms and the reception and lounge area. Basta Trattoria is located on the ground floor of the hotel. If you love Italian cuisine this is the place to eat in Wollongong. Bookings are recommended as the locals love it too!
To make a booking click here
We have two further options for accommodation in Wollongong.
The Sage Hotel and the Novotel Wollongong North Beach.
Both located well to enjoy your stay in Wollongong.
Here are more hotel options for Wollongong:
Where to Eat in Wollongong
Our top 5 favourite places to eat in Wollongong are:
Best Time To Visit Wollongong
The best time to visit Wollongong is during the Spring and Summer months from September to February.
Conclusion
We hope you have enjoyed our article on weekend getaways from Sydney in under 2 hours. These destinations can also be used for midweek getaways. Midweek you may find accommodation rates are cheaper than weekends.
Other Australian travel inspirations:
Road trip up the North Coast of NSW from Sydney returning via the country
Pinterest
You can save our article to your Pinterest Boards here.