Are you heading to one of Queensland's most beautiful areas – Palm Cove? Are you looking for accommodation in Palm Cove Queensland for your next vacation?
Imagine swaying palm trees, azure blue ocean, excellent accommodation, the best of local cuisine and a relaxed vibe – that is Palm Cove and more. There are so many things to do in Palm Cove you will need at least a week to enjoy the top attractions and to spend some time relaxing by the pool or on the beach.
Palm Cove has a range of accommodations to suit families, solo travellers, and friends looking for that perfect tropical escape. Palm Cove Accommodation ranges from holiday homes to resorts, hotels and a range of apartments to choose from depending on your budget.
Palm Cove and the Great Barrier Reef is one of the top honeymoon destinations in the world.
Accommodation in Palm Cove
Our Palm Cove accommodation article covers 5-star luxury accommodation, 4-star accommodation, Palm Cove apartments with booking.com Palm Cove our partner and Stayz Holiday Homes.
We have an exciting new property to share with you with a special gift if you mention Staycation Australia on booking.
'la palma' – your tropical paradise home away from home – 3 bedrooms, sleeping up to 6 guests. Brand new to the market in 2023. Cool down in your own swimming pool or relax under the pool cabana. The master bedroom on the ground floor has its own private retreat area with shower. Palm Cove Village is a ten minute walk away.
Hotels In Palm Cove
Palm Cove 5 Star Accommodation
The luxury colonial 5-star Reef House Palm Cove offers accommodation right in the centre of Palm Cove overlooking the Coral Sea. You have a choice of 67 rooms and suites and the villas can sleep up to 8. All rooms are decorated stylishly with tropical furnishings.
Enjoy a drink at the Brigadier's Bar and Lounge before heading into dinner at the Reef House Restaurant. Guests are invited to enjoy complimentary punch & canapés in the Brigadier's Lounge hosted by the General Manager.
When you are not sightseeing enjoy the adults-only tranquillity pool and children can enjoy the heated mineral pool.
Latest guest review:
"The Reef House was a perfect stay for our honeymoon with its relaxed boutique vibe and attentive friendly staff. As soon as you walk in you are made to feel welcome and comfortable. We loved the daily activities on offer including cocktail making classes, poolside sorbet, daily cocktails and canapes at the brigadier bar, yoga etc. The Day Spa was amazing as was the restaurant for dinner (we highly recommend the degustation!). We cannot recommend this hotel enough if you are a couple looking for a relaxed stay in the beautiful Palm Cove. We had originally considered some of the larger hotel-style resorts in the area however the tranquillity of the Reef House appealed to us and we are so glad we chose to stay here!"
All rooms include:
– A welcome drink and cold towel on arrival
– Complimentary daily punch and canapes, hosted by the General Manager
– Exclusive use of the Honesty Bar
– Use of the extensive guest library, DVD collection and board games
– Complimentary use of bicycles, fishing rods and tackle box
– Complimentary sorbets are served poolside daily
– Complimentary WiFi
– Complimentary bottled water in the room and upon departure
– Exclusive access to the luxury concierge services
Address: 99 Williams Esplanade Palm Cove
Check availability at The Reef House Here
Palm Cove Peppers Beach Club & Spa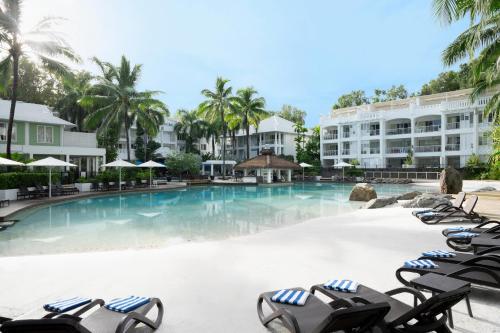 The 5-star Peppers Palm Cove is located at 123 Williams Esplanade in Palm Cove. Surrounded by lush green gardens the Beach Club has a rainforest rock pool, a lagoon pool and sandy beaches.
Choose between comfortable guest rooms or the larger suites which have a separate living/dining area and a fully equipped kitchen. All units have a balcony or terrace overlooking the ocean, pools or gardens.
Dining options are available at the La Mesa Restaurant and Lobby Bar and you can enjoy the Rocks Pool Bar during the day.
Book that special spa treatment at the Day Spa, play tennis or work out at the gym.
Latest guest review:
"Great resort with three amazing pools, loved the location and the staff were friendly"
Check Availability here for Peppers Beach Club & Spa
Pullman Palm Cove Sea Temple Resort & Spa
Located at the southern end of Palm Cove beach at 5 Triton Street is the 5-star luxury Pullman Palm Cove Sea Temple Resort & Spa. For that family staycation in Palm Cove or a romantic getaway the Pullman Palm Cove has a range of accommodation available from studio spa rooms, 1, 2 or 3 bedroom apartments, apartments with plunge pools, to penthouse apartments that offer either a plunge pool or a rooftop spa.
You can dine at the Temple of Tastes Restaurant or enjoy a cocktail from the Lagoon Bar.
There are three swimming pools available – children's swimming pool, lap pool or the lagoon swimming pool.
Enjoy the latest spa treatments from Vie Spa or enjoy a workout at the gym or take a walk along the beach from the hotel's direct beach access.
Latest guest review:
"The resort was amazing, the facilities and pools were kept at an exceptional standard and the restaurants had good quality food and was well worth the money. We enjoyed the free breakfast that came with the stay and would highly recommend this place to anyone wanting a peaceful and nice gate away surrounded by nature. I liked that it was not located in the central strip where everything was but was not far and was walking distance to the strand. The staff were also really accommodating and were super friendly. We would stay here again!"
Check availability here at the Pullman Palm Cove Sea Temple Resort & Spa
Palm Cove 4 Star Hotels
The Palm Cove Mantra Amphora is a 4-star hotel located at 49 – 63 Williams Esplanade Palm Cove opposite the beach. Well located for restaurants, cafes and bars on William Esplanade.
Rooms available are hotel rooms, 1, 2 and 3 self-contained apartments with balcony and garden or pool views. Most rooms have a spa bath. There is a children's wading pool and a lagoon-style swimming pool.
Our stay was at the Mantra Amphora. We loved the location opposite the beach and right in the middle of the restaurant strip. The accommodation was excellent, staff very welcoming, and the pool is the largest in Palm Cove and very welcome after a day of sightseeing.
We have recently stayed again at The Mantra Amphora in a one-bedroom suite this time with views over the ocean. Our week's stay was perfect again. The Mantra Amphora is a very popular resort for families, so we would recommend booking well in advance especially during peak holiday seasons.
The popular Vivo Palm Cove Bar & Grill Restaurant is located on-site.
Latest guest review:
"Amazing location – pool facilities were great. Surrounded by amazing and a big range of restaurants, coffee shops and take away! Big apartment fully stocked kitchen to cook up a storm or relax in air-con to get some escape from the humidity. Cannot wait to come back with extended family"
Check availability here for the Mantra Amphora Palm Cove
Address: 1 Veivers Road Palm Cove
Accommodation is made up of studio rooms, 1, 2, 3 and 4 bedrooms apartments – some are beachfront, or beach view or pool views.
The hotel features 3 swimming pools, a hot tub and a day spa. All apartments come with laundry facilities, and the kitchen has a dishwasher and microwave.
Latest guest review:
"Location was perfect and made everything easy to get to. The bedroom apartment was perfect for our family of 5."
Check availability here for the Alamanda Palm Cove
Palm Cove Apartments
If you want to self-cater on your holiday Palm Cove has a range of apartments to choose from. We have listed the most popular ones with high traveller reviews.
There is a small supermarket in Palm Cove and a larger Coles at Clifton Beach about a 10 minute drive from the centre of Palm Cove.
The Elysium Apartments offer 1, 2 and 3 bedroom apartments as well as studio rooms located at 26 Veivers Road Palm Cove 200m from the beach. The studio rooms have a kitchenette whilst the apartments have a fully equipped kitchen.
Facilities include a large outdoor swimming pool with massaging spa jets, air conditioning, cable TV, balcony and free parking.
Latest guest review:
"Great location, apartment was a good size and nice and clean. Good communication with manager prior to arriving and also.whilst there. Highly recommend."
Marlin Waters Beachfront Apartments
Located at 131-133 Williams Esplanade opposite Palm Cove Beach these 4-star apartments offer guests private balconies and lovely ocean views. There is an outdoor swimming pool, hot tub, BBQ, laundry facilities, air conditioning, cable TV, DVD player, fully equipped kitchen and elevator access.
Latest guest review:
"The apartments are large and well-appointed with everything you need for a comfortable stay. The pool is fantastic, The location and views are spectacular and the Managers are wonderful people! We will be back!"
Check availability for Marlin Waters Apartments here
The Palm Cove Tropic Apartments located at 6 Triton Street are well-positioned being only 100m from Palm Cove Beach. The apartments are all fully self-contained with separate bedrooms, fully equipped kitchen, balcony or patio overlooking the rainforest pool or garden. There is a heated pool, terrace with deck chairs and a covered BBQ area.
Latest guest review:
"Very nice tropical setting beautiful pool very close to the Esplanade quiet clean room with everything supplied excellent parking underneath the building Staff were delightful helpful and friendly"
Check availability for Palm Cove Tropic Apartments here
For More Palm Cove Hotel Options
Stayz Palm Cove Self Catering Accommodation
Stayz has a range of over 244 properties to choose from in and around Palm Cove. Holiday rentals are perfect for your accommodation needs and can include amenities such as multiple bedrooms, a kitchen, or laundry facilities, so you feel right at home. If you want a little more, you can find the ideal rental with extra perks like pools, backyards, spas, verandas and more, ideal for family space, romance, socialising or relaxing on your holiday.
Weather in Palm Cove
When is the best time to visit Palm Cove?
The wettest months in far north Queensland is between the months of January and March.
The winter months are the coolest times to visit Palm Cove.
Transport to Palm Cove
Cairns Airport is the closest airport to Palm Cove. The distance between Cairns Airport and Palm Cove is 25 km with an average driving time of 26 minutes.
To book a car rental from Cairns Airport – check out the latest deals and availability here
Latest Flight Deals to Cairns Airport
For the latest flight deals from your departure point to Cairns – click here
We have created a Staycation Australian Facebook Group to assist travellers in planning their next Australian Staycation. Click here to join.
If you are planning to take out travel insurance click here for the latest quotes and policy details.
Want to save our article to read later? Why not PIN it. Why not follow us on Pinterest.
Conclusion
We hope you enjoyed our article on where to stay in Palm Cove. We know you will enjoy this tropical destination as much as we do. If you have any tips that you would like to share with us feel free to go to our Facebook page.
Related reading: