Are you looking for that fun-filled family, friends or couples holiday on the Gold Coast close to the Theme Parks?
Before you book your Gold Coast Theme Park Passes you will need to book your Gold Coast Theme Park accommodation.
In our Staycation Australia article on the best Gold Coast Theme Park Accommodation, we have come up with some unique accommodation experiences for you. We look at a theme park resort, a caravan park, a farm stay, a villa, houseboats and two hotels.
This post may contain affiliate links. Please see our disclosure for more information.
Best Places to Stay in the Gold Coast for Theme Parks
Seaworld – The Resort Within A Theme Park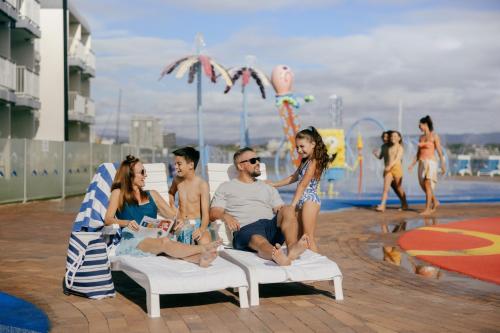 Why you should stay at Seaworld? Seaworld is Australia's only Theme Park Resort.
You have easy access from the Gift Shop at Seaworld that takes you through to the monorail or to the entrance to Seaworld. Seaworld is also only a 4-minute walk to the beach – perfect for families.
Address: Seaworld Drive Main Beach Queensland
There is a huge range of different configurations for accommodation to suit solos, friends, couples and families some also include entry to 3 Theme Parks.
Distances from tourist attractions:
Wet'n'Wild Water World 11.5 km
Warner Bros. Movie World 12.3 km
Robina Town Centre 14.3 km
WhiteWater World 14.8 km
Dreamworld 14.8 km
3 Restaurants On Site:
Shoreline Restaurant:
Open for breakfast and dinner serving Australian cuisine. The menu is a la carte.
Hatsuhana Japanese Restaurant:
Open for Dinner – a la carte Japanese cuisine
Waterfall Cafe:
Open for Lunch and Cocktail hour – Australian cuisine with an a la carte menu
Facilities include:
Each room has either a balcony or a patio
Free Wi-Fi
Swimming Pool
Free Parking
Spa
Kids Club
Kid-friendly buffet
Guest review:
Liked · Excellent family resort. Good on site facilities and activities for kids. Very easy access to Sea World. Good parking facilities. Helpful staff. Good restaurants and food.
Disliked · No microwave oven in the room.
Big 4 – Gold Coast Holiday Park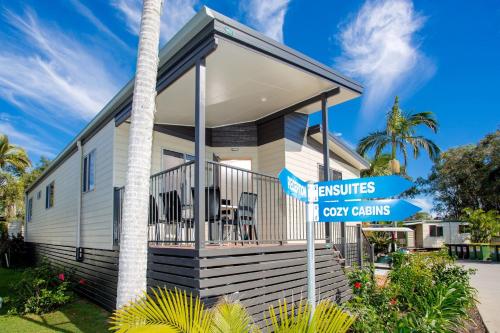 Why stay at the Big4 Gold Coast Holiday Park – it is the only caravan park that is close to the Gold Coast Theme Parks. It is perfect for families as well as being dog friendly. It is located across the road from Movie World, Wet'n'Wild, Outback Spectacular & only 2 minutes' drive from Dream World & White Water World.
The Big4 Gold Coast Holiday Park has its own water park and a range of new activities such as a Foot Pool, Bocce, Frisbee Golf and an off-road Remote Control Car Track. Saltwater Creek runs through the property, where you can go fishing or throw in your kayak and go for a paddle.
Accommodation consists of: 3-bedroom cabins, 2-bedroom villas, bungalows, family cabins, cozy cabins, motel rooms and studio rooms.
Guest review: Such a great park to stay! The amenities & overall customer service was exceptional. All staff went out of their way to ensure we had a memorable relaxed stay. The kids loved the heated pool, spa & amazing water park. Great Camp kitchen amenities for breakfast & the food at the cafe was perfect for easy dinners served quick & with a smile. We can't wait to come back
Address: 66-86 Siganto Drive Helensvale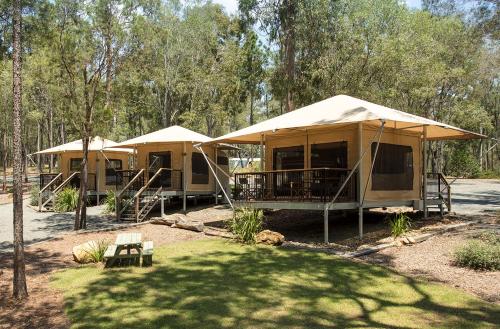 Why stay at the Paradise Country Farm Stay? A great experience for families with sunrise and sunset adventures. Cow milking and animal feeding as well as roasting marshmallows around the campfire for all.
Accommodation varies from tents, camp and van sites and eco tents.
Guest review: Honestly this one really surprised us. It was a last-minute booking due to little availability on the dates we required. I was a little worried it would be tacky or commercialised being a theme park-owned "Farm Stay". But honestly, Village Roadshow really do know what they are doing, the whole experience was fantastic, the tents were lovely and had a very authentic feel to them while having all the luxuries you want. Lots of cute animals, including a little surprise Marmosets! We milked cows and fed the animals, collected fresh eggs and did other activities in the morning, the kids absolutely loved it! I can't remember the last time I have seen kids this happy! On that note, the staff were beyond amazing, happy and clearly loved what they do.
Distances from attractions:
Village Roadshow Studios 0.4 km
Australian Outback Spectacular 0.5 km
Warner Bros. Movie World 0.6 km
Wet'n'Wild Water World 0.9 km
Coomera Indoor Sports Centre 5.2 km
WhiteWater World 5.3 km
Address: Production Drive Oxenford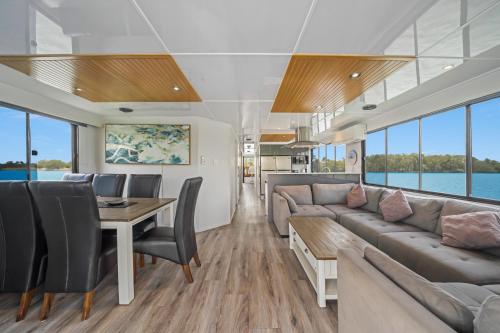 Why stay on one of the Coomera Houseboats? A unique experience for all with Dreamworld 5 minutes away and Warners Bros Movie World just 9 minutes away. Enjoy a relaxing vacation on the water.
Accommodation: 10 houseboats, two with hot tubs sleeping from 8 – 12 people.
All come with a flat-screen TV and a fully equipped kitchen.
Guest review: Great location! Nice and close to everything the gold coast has to offer, also great to be out on the water! Lovely service and great accommodation on the boat.
Address: 84 Shipper Drive Gold Coast
Villa Accommodation Near The Gold Coast Theme Park
The 3-bedroom villa consists of two queen-sized bedrooms and the 3rd bedroom is configured for two single beds sleeping a maximum of 8 in the villa.
There is 1 bathroom, a flat-screen TV, a fully equipped kitchen, a dining room and patio with garden views and an outdoor swimming pool.
Address: 14 Yaun Street Coomera
Distances:
Whitewater World 0.7 km
Dreamworld 0.7 km
Australian Outback Spectacular 4.7 km
Warner Bos Movie World 4.1 km
Wet n Wild 5 km
Guest review: This villa has all we could need and was in a great location, especially for Dreamworld. The host was very helpful and had great communication. The unit is quite large.
Hotels Near Theme Parks Gold Coast
Location: A 10-minute drive from Warner Bros. Movie World (8.9 km), Wet'n'Wild (8 km)and Dreamworld is only a 17-minute drive away (12.3 km).
A range of accommodation from Queen Studios to King Suites.
Facilities include 2 restaurants, a cafe, bar, fitness centre, free WiFi, Aviary Rooftop Bar, there is no swimming pool. It is close to the light rail so that you can explore more of the Gold Coast.
Guest review: All the facilities, the attached sharks club. Become a member get discounts, great atmosphere and friendly people.
Address: Cnr. Musgrave & Olsen Ave Southport
4-star accommodation with gardens made up of 1, 2 and 3 bedroom townhouses, 1 and 2 bedroom apartments and a 4 bedroom house.
Facilities include a kitchen with a dishwasher, oven, microwave, stovetop and toaster.
Location: Dreamworld 3.5 km, Whitewater World 3.6 km, Movie World 5.6 km, Wet n Wild 6 km.
Need to know: Check-in is at Azzura Greens Resort on: Ground floor of 2 Activa Way, Hope Island which is 5 minutes away from our property. There is no internet and no swimming pool.
Guest review: The apartment was nice & quiet, and spacious. Appliances included a microwave, kettle, toaster, large refrigerator, washing machine & dryer. The bed & pillows were very comfortable. The undercover park was perfect. Walking distance to a tavern for meals & a supermarket.
Address: 5101 Harbourview Drive Hope Island
Conclusion: We hope you enjoyed our article on accommodation on the Gold Coast staying close to the Gold Coast Theme Parks. Feel free to share our article with family and friends. We would love to hear from you if you have stayed on the Gold Coast recently.
FAQs on Visiting the Gold Coast
Which airport do you fly into for visiting the Gold Coast Theme Parks?
The Gold Coast Airport (OOL) is the airport for visiting the Gold Coast Theme Parks. Seaworld is located 26.5 km from the Gold Coast Airport (around 50 minutes driving time).
Flights to the Gold Coast
We use Skyscanner for researching and booking flights – check the latest deals to the Gold Coast here.
Gold Coast Car Rental
You can rent a car from the Gold Coast Airport – for more information click here
Travel Insurance
We always recommend taking out travel insurance – you just don't know when you may need it. For more details click here.
Staycation Australia Facebook Group
We have created a Facebook Group to help you plan your Australia Staycation. You can join here.
Look how easy it is to pin to your travel boards:
Related Reading:
Best Gold Coast Theme Park Passes