Most visitors only spend a day on beautiful Bruny Island and most of it is spent on South Bruny Island.
We were one of them taking a full-day tour from Hobart, but in hindsight, we should have planned to spend at least 2 nights spending time on both the North and South Bruny Islands. There are so many things do on Bruny Island you do need longer than a day.
North Bruny Island is a 'foodies delight' and if you are a lover of oysters some of the best in Australia can be found on North Bruny Island at Get Shucked.
Get Shucked is the first drive-through Oyster Bar we have come across in our travels. You can also stop and relax and enjoy their oysters at their very own Oyster Bar.
Address: 1735 Bruny Island MainRoad, Great Bay
Two other favourite places to check out whilst visiting North Bruny Island are the Bruny Island Cheese Company with some of the best cheeses we have tasted, you can also try their local craft beer, wines and freshly baked bread as well.
Address: 1807 Bruny Island Main Rd, Great Bay
Our other favourite place is Bruny Island Honey where you can taste local Bruny Island honey, condiments, ice creams and purchase toiletries all made with honey.
Address: 2184 Bruny Island Main Rd, Great Bay
This post may contain affiliate links. Please see our disclosure for more information.
Good to know: Consider booking in advance for peak travel periods. Some accommodations are booked out a year in advance in particular at Christmas and Easter with regular travellers.
where to Stay on North Bruny Island
Bruny Island is made up of North Bruny Island and South Bruny Island. The two islands are separated by an isthmus known as The Neck. The Bruny Island Ferry docks on North Bruny Island at Robert's Point. There is a small kiosk at Robert's Point just by the Ferry Wharf.
North Bruny Island Accommodation
Barnes Bay
Barnes Bay is located on North Bruny Island a ten-minute drive from the Ferry Wharf at Robert's Point. Fishing is available from the jetty. Barnes Bay is a great spot for picnics.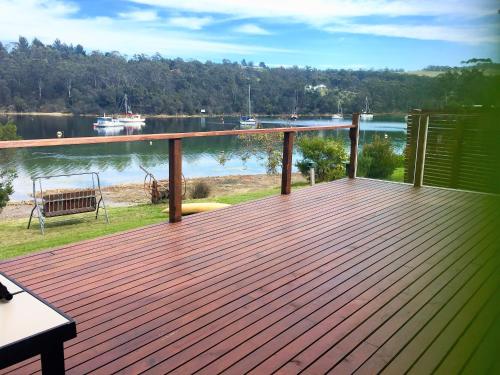 What guests say about A Slice of Paradise:
"I loved the view and really enjoyed how quiet the area was. The owner was very friendly and easy to deal with. He gave us great directions to the property and more info about shops etc. The property had everything we needed and more."
Address: 176 Church Road Barnes Bay
Distance to Ferry: A Slice of Paradise to Robert's Point (Ferry Ramp) is 9 km – 10 minutes driving time
A Slice of Paradise is a fully self-contained 2 bedroom duplex cottage right on the edge of the water.
The main bedroom contains a queen-sized bed and the 2nd bedroom has 2 single beds suitable for families or a group of friends. There is a bathroom and a separate toilet. The kitchen is open plan and the lounge with a sunroom/dining room that leads out to the deck.
The wrap-around deck has an outdoor seating area to seat 6 people and a BBQ.
A boat ramp and jetty is located 50 m away from the property. The bays are quiet in this area and are suitable for boating and kayaking. There are several beaches close by which are safe for swimming.
There are signposted walks close by ranging from 15 minutes to 5 hours.
What guests say about Free Spirit Pods
"Quiet idyllic location with great views. The property had everything we needed for a short stay with unexpected comforts. Loved the lolly jars!!!"
Address: Davis Road, Quarantine Bay, Barnes Bay
Distance to Ferry: 17 km
Free Spirit Pods looks over Quarantine Bay and with 250 m of direct water frontage beside the Quarantine Station National Park.
Each luxury eco Pod has a balcony, kitchenette, microwave, stovetop, toaster, private bathroom and is suitable for 2 people. The two pods that are available are open plan with floor to ceiling bi-fold doors leading out to your private deck.
Breakfast is available: Breakfast with free-range eggs & Snug butchers bacon, a variety of teas, freshly ground or instant coffee and condiments
Wifi is available, Smart TV and Netflix!
Also available:
Two-seat kayak's – (we have three) life vests and paddles
Fishing rods, hand lines and tackle box. BYO Bait!
Boat mooring (Vessels are up to 13m)
The Nebraska Retreat – Perfect For Families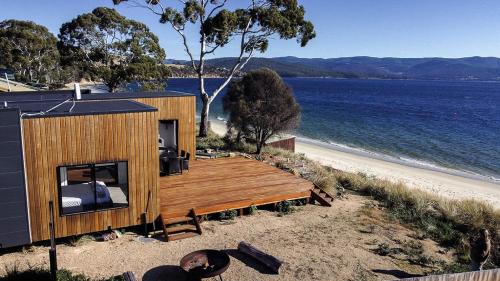 What guests say about the Nebraska Retreat:
"All the mod cons & comforts of city life in a remote relaxing location. Our kids, 4&6, loved the direct access to the beach & toasting marshmallows over the fire. Very happy with our chief family getaway in Nebraska! A highlight was an early morning swim (in July!) & having the "Otto" from Bruny Island Cheese Company for dinner. Natasha was very helpful with excellent communication. Highly recommended for a couple, two couples or families alike."
Address: 198 Nebraska Road Dennes Point
Distance to Ferry: 22.6 km
The Nebraska Retreat is a 3 bedroom, 1 bathroom holiday home located at Nebraska Beach that can sleep up to 6 people.
The open plan modern kitchen and lounge room has water views from every window. You can relax on the expansive decks overlooking Nebraska Beach or dine in the multiple outdoor entertaining areas. The fire pit is perfect for roasting marshmallows on whilst enjoying a 'sundowner' or two in the late afternoon.
The Woolshed and Farmhouse Blue at Barnes Bay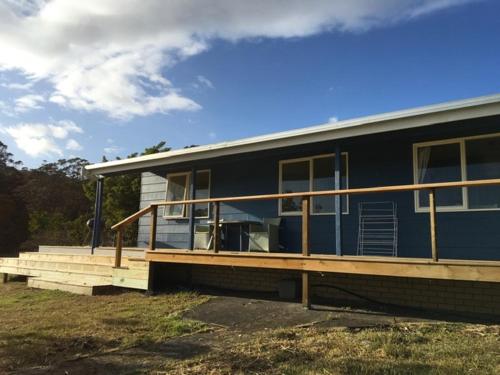 What guests say about Farmhouse Blue.
"Jane's farmhouse is situated in the most idyllic location. A perfect place to unwind on this gorgeous working farm with sheep, chickens, a horse, a duck named Frank and a fabulous friendly furry spaniel friend named Betsey. Our family made some very special Christmas memories exploring the private beaches of Bullbay with our sidekick Betsey in tow and dared to swim in the chilly crystal clear Tassie waters. The outdoor shower and bath are a highlight of evenings and mornings for all. Jane's hospitality was wonderful and we'd highly recommend a stay in her delightful Blue Farmhouse".
Farmhouse Blue is suitable for 6 guests in 3 bedrooms with 4 beds and 1 bath. The outside bath has stunning views over Storm Bay and Iron Pot Lighthouse. Bedroom 1 and 2 has a queen bed in each and bedroom 3 contains 2 single beds. Farmhouse Blue has a fully equipped kitchen and laundry facilities.
Please note: there is no Wifi available.
Farmhouse Blue is located on a working farm with glorious views over Storm Bay.
What guests say about The Woolshed
"This is a stunning find, a working farm on what feels like a remote, rugged and beautiful little hidden corner of Bruny. Close to the ferry and the cheese company and Get Shucked oysters, we loved visiting the pigs, geese, a dog, and watching the turbo chooks zipping across the front yard which looks all the way down to a private wild beach and the waters of the coast. Jane is absolutely lovely and was an amazingly generous host. Cannot wait to come back. Don't hesitate to come and stay here, it's heaven on earth and you'll love the solitude and natural beauty."
The Woolshed is suitable for 4 guests, 1 Queen bedroom, and a double futon is available in the main living room with 1 bath. There is no TV but a large library is available with a good selection of books. A BBQ is available and hammocks for relaxing in the shade.
There is no wifi available.
Are you on Pinterest? We are at Staycation Australia. Why not follow us and save to your own board for your next travel inspiration.
Conclusion
We hope you liked our round-up of accommodation on North Bruny Island. There are some excellent properties to stay in and we hope that you can plan to visit Get Shucked Oysters and the Bruny Island Cheese Company.
Make sure you check out two of the best beaches on North Bruny Island – Killora and Nebraska.
We have created a Staycation Australia Facebook Group so that you can keep up to date with our staycation ideas in Australia. You can always ask questions in our group to help you plan your next staycation. Join here.
Rental Cars in Tasmania
If you are looking to rent a car whilst vacationing in Tasmania click here for the latest deals. NB – check that the car rental company will allow you to take cars across to Bruny Island.
Flight Deals to Hobart
For the latest airfare deals from your home departure point to Hobart check here
Travel Insurance
If you are considering taking out travel insurance click here for the latest insurance quotes and policy details.
Sealink Ferry Details from Kettering to Bruny Island
For the latest schedules and ticket prices for the Bruny Island Ferry click here
We are on Instagram – you can follow our travels throughout Australia here
Are you on Youtube – we have our Staycation Australia Youtube Channel you can subscribe here
Sign up for our regular newsletter here. We won't spam you but we don't want you to miss out on exciting destinations to discover in your own backyard.
Related Reading: