Is Yamba on your wish-list for your next holiday? Well, you have chosen a great destination. If you are a beach lover, love shopping, enjoy eating out, coastal walks, surfing and love a great vibe, Yamba will tick all your boxes. We encourage you to check out all Yamba attractions, you won't be disappointed and we know you will return time and time again.
Where is Yamba Australia?
Yamba is located at the mouth of the Clarence River on the North Coast of NSW Australia.
Sydney to Yamba 660 km and a driving time of 7.5 hours
Brisbane to Yamba 280 km and a driving time of 3.5 hour drive.
Grafton to Yamba 64 km with an average driving time of 50 minutes
Ballina to Yamba 101 km with an average driving time of 1 hour 8 minutes
Coffs Harbour to Yamba 132 km average driving time of 1 hour 25 minutes
Why visit Yamba NSW?
Once a sleepy coastal town Yamba has certainly made its mark recently equalling the likes of Port Macquarie and Coffs Harbour. Travellers who have thronged to Byron Bay and now finding it very touristy are heading to Yamba 120 km away.
Its laid back vibe has won the hearts of many, us included. All we hope is that you can spend as much time as you can, our two nights were far too short!
Can you fly to Yamba?
Yamba does not have an airport, the closest airport for domestic flights is Ballina Airport 130 km away with an average driving time of 1.5 hours. Grafton is a closer airport with regional flights 70 km away with an aapproximate driving time of 1 hour. Regional Express flys from Sydney to Grafton.
This post may contain affiliate links. Please see our disclosure for more information.
For the latest flight deals from your home departure point – find out more information here
If you need to rent a car from Ballina Airport you can find out more details here.
Things to do in Yamba NSW
Map of Yamba
Hit The 5 Beaches of Yamba
Yamba's Main Beach
Yamba's Main Beach has a surf club which is one of the oldest in the world, a cafe and an ocean rock pool. It is located in front of the Pacific Hotel and has disabled access. The beach is patrolled on weekends, and school holidays from September through to Easter.
Pippi Beach Yamba
Pippi Beach lies to the south of Yamba's bay beaches and is subject to southern swells. It is dog-friendly at the south end where dogs can be off-leash. The 1.6 km beach is a favourite for locals and visitors enjoying a walk at sunrise or sunset. Pippi Beach is patrolled during the summer season and has picnic tables, toilets and parking available.
Turners Beach Yamba
Turners Beach is great for swimming, surfing and fishing. It is patrolled during the summer season and has toilet and change facilities, picnic facilities and car parking available. Turners Beach has a break wall which is enjoyed by fishermen and for that evening stroll.
Whiting Beach
Whiting Beach is perfect for young families, but take note it is not patrolled. It is sheltered which makes it popular with everyone. Facilities include picnic tables, toilets and showers and it is just a short 10-minute walk from town. Also great for stand up paddleboarders and kayakers.
Convent Beach
Convent Beach is sheltered by the cliffs and is a great location for dolphin watching.
Learn to Surf in Yamba
A 2-hour surf lesson for all members of the family in the #1 surf town in Australia – Yamba.
Visit Angourie's Blue and Green Pools
Angourie is just a short 8 minute drive from Yamba.
Park your car at Spooky Beach car park and walk the beach tracks and ledges around the Blue Pool to the headland.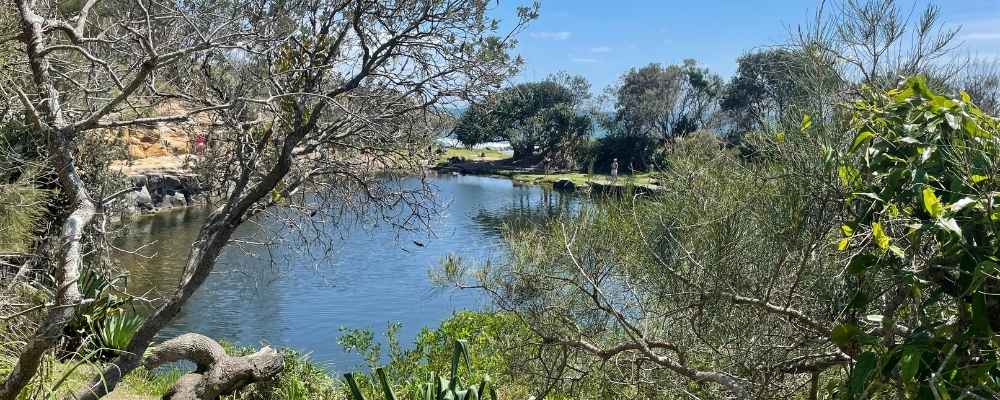 The Blue and Green Pools are popular with families for swimming and for picnics. There is a walking track from the car park at the end of The Crescent Angourie. The pools were rock quarries originally that were filled with fresh water when the quarry closed down.
Don't be surprised if you see many of the local youths diving from the cliff face into the Green Pool!
Yamba Historical Walk
There are two available historical walks that you can do in Yamba.
The Up Down and All Around Walk – a 4 km walk grade level medium that covers the historical sites of Yamba Hill.
The Sea Level Stroll – a 5 km walk grade level easy viewing the flat-level sites of Yamba
NB: the walks start and finish at the Yamba Museum, River Street, near the Yamba Golf Club. You can pick the guides up from the Yamba Museum.
Yamba Museum
Address: River Street near the Yamba Golf Club
Opening hours: Tuesday, Wednesday and Thursday 10.00 am to 4.30 pm Saturday and Sunday 2.00 pm to 4.30 pm
The Yamba Museum covers the history of Yamba and its maritime settlement.
The Yaegl people, the traditional owners of the land, have lived in the area for 60,000 years.
Matthew Flinders discovered Yamba in 1799 when he came ashore to replenish his water supplies and repair his ship the HMS Norfolk. He named the site Shoal Bay which was later changed to Yamba.
Clarence River Ferries
The Clarence River Ferry departs from the Iluka Boatshed and Marina several times a day for the scenic cruise down the Clarence River.
More details here
Local Markets – Yamba and Surrounds
Yamba Farmers Market are held every Wednesday at the Whiting Beach Carpark.
Yamba Markets are held on the 4th Sunday of the month at Ford Park, River Street in Yamba.
Maclean Community Markets are held every 2nd Saturday of the month at the Main Car Park near the Maclean Bowling Club.
Iluka Markets held on the 1st Sunday of the month at the Iluka Sports Oval Cnr of Owen and Spenser Streets Iluka
Yamba Twilight Street Market is held 1st January at Yamba Street Yamba
Top Things To Do In Yamba With Kids
Are you wondering what to do in Yamba with kids in tow? Check out our list of 14 Yamba activities below:
Where to Eat and Drink in Yamba
Wobbly Chook – Craft Beer in Yamba – our favourite in Yamba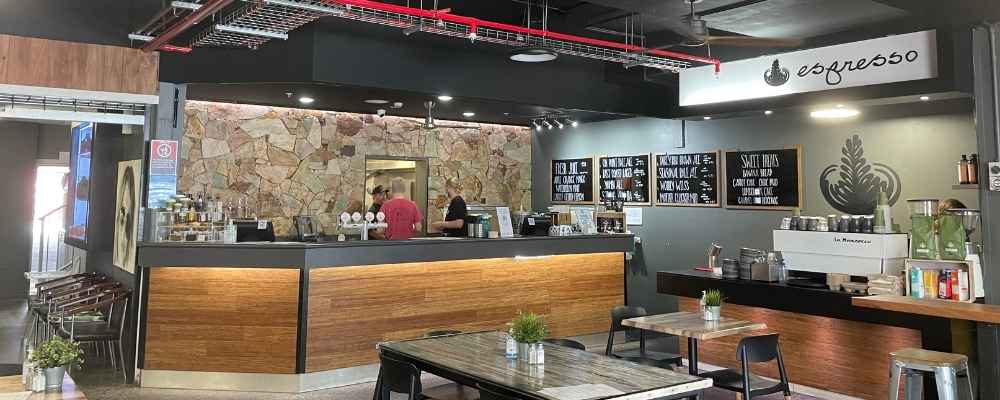 We had a great lunch with some excellent craft beers from the Wobbly Chook in Yamba. The fish & chips were excellent, as you would expect from a coastal town famous for the Yamba prawn and fresh seafood.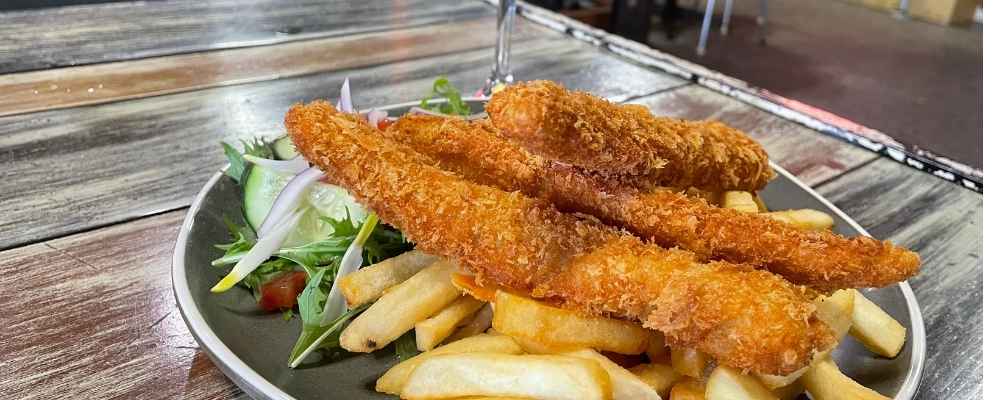 The lunchtime menu is extensive and they have a good range of kid's meals as well. You can sit al fresco or enjoy the vibe inside.
Try their Pecking Menu on Fridays and Saturdays from 3 pm to 8 pm and their Bar Menu on Friday and Saturday from 5 pm to 8 pm.
Tasting Paddles are available – Paddle 1 and Paddle 2 with 4 different beers on each
Address: 26 Coldstream Street Yamba
Good To Know: Accommodation is available as well at the Yamba Central which is above Wobbly Chook. We checked out a few rooms for future reference. You can book a motel style room with an ensuite or if you are on a budget try one of their dorm rooms or twin/double rooms with shared bathrooms. For more information click our link here
Caperberry Cafe Yamba
Great coffee, good breakfast menu and some excellent burgers. Try the Vegie Burger!
Opening hours: Monday to Sunday 6.00 am to 3.30 pm
Address: 25 Yamba Street, Yamba
Pacific Hotel Yamba – top restaurant in Yamba
Open for lunch and dinner from 12.00 to 2.30 pm and 6.00 pm to 8.30 pm for great views over the Pacific Ocean and an excellent bistro menu.
Address: 18 Pilot Street Yamba
Beachwood Cafe
We were recommended by a few people to go to Beachwood Cafe at 22 High Street Yamba. Unfortunately, we could only visit on a Monday and that is the day they close. The menu is based on locally grown produce with middle eastern and Meditteranean influences.
Opening hours: Breakfast from 7 am to 11 am and Lunch from 11.30 to 2.00 pm. They are closed Mondays and public holidays.
Where To Stay in Yamba
There is a variety of Yamba accommodations from caravan parks to resorts available to suit all budgets and types of travellers.
We chose to stay at the Angourie Resort Yamba in a family 2 bedroom villa. Facilities were excellent – pool, spa, parking, tennis court and restaurant, children's play area, fully-equipped kitchen, a large covered in balcony and very comfortable and large bedrooms. You can read our review here.
Hotels in Yamba
Weather in Yamba
When is the best time to visit Yamba?
Spring and Autumn are great months to visit Yamba. The summer holidays are a busy time to visit Yamba. The prices of accommodation in Yamba are at their highest during the summer school holidays.
Conclusion
There are so many places to see in Yamba and lots of Yamba activities to suit all ages. We hope you have enjoyed our article on things to do in Yamba. Feel free to share our article with family and friends and if you visit let us know what you enjoyed the most.
Pinterest
Save our article on your Pinterest travel inspirations board for future reference.
For your next staycation have you considered:
More reading: